A COMING OUT
By Roy Burner (Minister of the Gospel)

---
INTRODUCTION
A coming out!  A day of reckoning; past offenses being revealed, with many being called to task for former abuses, with a new found freedom accusers had not formerly been granted.
However, if those accusations are only based on unsubstantiated  evidence it becomes character assassination; placing an unfounded blemish on the accused person's life.  Scripture reveals:  A good name is better than precious ointment; and the day of death than the day of one's birth (Ecclesiastes 7:1).  

---
A Coming Out
(Ungodliness of Man)

We are seeing another type of a coming out that is burdensome on society; the ungodliness of man, which puts a blemish on society as a whole because of acceptance of ungodly lifestyles.   There is a Sodom and Gomorrah mentality being introduced and accepted.  The reputation of Babylon is surfacing!  Scripture reveals: And he (an angel of the Lord) cried mightily with a strong (or loud) voice, saying, Babylon the great is fallen, and is become the habitation of devils (or demons), and the hold of every foul spirit, and a cage of every unclean and hateful bird.
For all nations have drunk of the wine of the wrath of her fornication, and the kings of the earth have committed fornication with her (a unlawful relationship), and the merchants of the earth are waxed (or grown) rich through the abundance of her delicacies (Revelation 18:2-3).  We are seeing an acceptance that goes far beyond the shores of one nation; as others began to enter into the sphere of acceptance!
Be Not Partakers of Her Sins
Scripture reveals:  I (or John) heard another voice from heaven, saying, Come out of her (or Babylon), my people, that you be not partakers of her sins, and that you receive not of her plagues.  For her sins have reached unto heaven, and God has remembered her iniquities (Revelation 18:4-5).  A coming out was needed!  A Bible commentary noted: Believers must be separate from the harlot system, or else they may be found to share in her sins and thereby receive part of her judgment.  
Scripture reveals:  Therefore shall her plagues come in one day, death, and mourning, and famine; and she shall be utterly burned with fire: for strong is the Lord God who judges her (Revelation 18:8).  Her sins had become as common as the eating of unhealthy food.  A Bible commentary noted: One day may be a literal day or a symbol for the suddenness of the destruction.  Fire may also be either literal fire or a symbol of the judgment God.  It is reminiscent of the burning of Rome in A.D. 64.

Nibbling Away
(The Forbidden Fruit)
One may have become so captivated by the forbidden fruit (or sin) that they have begin to nibble away because of its availability; succumbing to its allurement, which necessities a coming out?  Scripture reveals: Every man is tempted, when he is drawn away of his own lust (or desires), and enticed.  Then when lust has conceived, it brings forth (or gives birth) to sin: and sin, when it is finished (or full-grown), brings forth death (James 1:14-15).  
A Sunday school commentary noted: It has been said that sin will do three things in one's life: It will take one where they never intended to go.  It will keep one longer than they intended to stay.  It will cost one more then they intended to pay.  Sin is costly business that separates people from God.  However, genuine repentance brings forgiveness and restoration with God.
Scripture reveals:  Being made free from sin, we become servants to God, you have your fruit unto holiness, and the end everlasting life.  For the wages of sin is death; but the gift of God is eternal life through (or in) Jesus Christ or Lord (Romans 6:22-23).  If we confess our sins, he is faithful and just to forgive us our sins, and to cleanse us from all unrighteousness (1 John 1:9).

A coming out of the sinful nature has been provided by God; through His Son, the Lord Jesus Christ.  Failure to receive God's mercy and grace; leaves one under the influence of the sinful nature of man.  Scripture reveals: He that believes on the Son (the Lord Jesus Christ) has everlasting life; and he that believes not the Son shall not see life; but the wrath of God abides (or remains) on him (John 3:36).
Pollutions of the World
Scripture reveals: For if after they have escaped (a coming out) the pollution of the world, through the knowledge of the Lord and Savior Jesus Christ, they are again entangled therein, and overcome, the latter end is worse with them than the beginning (2 Peter 2:20).
Despite one's profession of faith; some have become entangled with the world and overcome by it.  Scripture gives a warning: You therefore, seeing you know these things before (or beforehand), beware lest you also, being lead away with the error of the wicked, fall from your own steadfastness (2 Peter 3:17).  A coming out becomes of a urgent nature; a withdrawal that God, through His Son, the Lord Jesus Christ, has provided.

Sounding the Alarm
Are God's watchmen sounding the alarm; or has there been a failure in doing so?  If a warning is being given are the people listening, or are they continuing to be entertained with the Sodom and Gomorrah, and Babylon setting spoken of?
Has one become so use to the present day flow of ungodliness; that one becomes as Lot who lingered though he knew that judgment was at hand?  Scripture reveals:  And while he lingered, the men (or angels of the Lord) laid hold upon his hand, and upon the hand of his wife, and upon the hand of his two daughters; the Lord being merciful to him: and they brought him forth, and set him without (or outside) the city (Genesis 19:16).
An Ambassador for Christ
When Jesus departed to be with His Father in heaven, we (as believers) became Ambassador's for Christ.  Scripture reveals: Now then we are ambassadors for Christ, as though God did beseech you by us: we pray (or implore) you in Christ's stead, be you reconciled to God (2 Corinthians 5:20).  When an Ambassador is chosen to represent a country; their life becomes noticeable to all in that representation.  Do we, as Christians, have a Christlike demeanor in our everyday walk as a representative of Christ? 
I have a patch that shows a Cross and Bible with the words inscribed:  "Ambassador for Christ."  When wearing the patch it makes me very conscientious of how I should conduct myself as Christ's representative.  When not wearing the patch; should I conduct myself otherwise, certainly not! 
A coming out of this world entails that one; who abides in Christ, should strive to walk even as he walked.  Scripture reveals: He that says he abides in him (or Christ) ought himself also so to walk, even as he walked (1 John 2:6).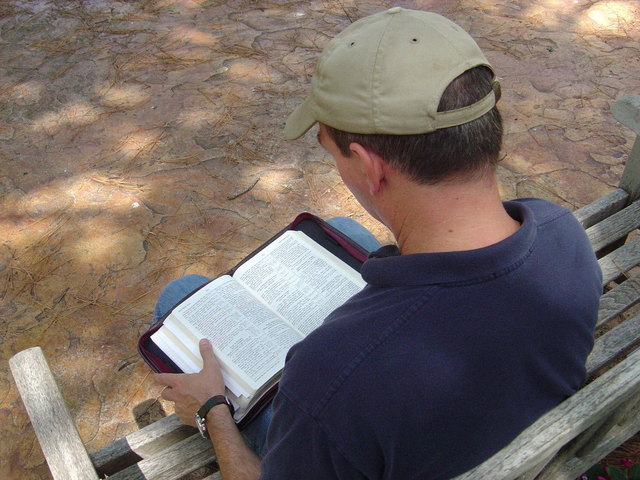 GOT QUESTIONS  A Website where Bible questions are answered.  With over 4,500 answers to frequently asked Bible questions published online, approximately 75% of the questions have answers available instantly.  This Website is an easy way to search out any questions you may have.