A DEDICATED WALK

W R Burner (Minister of the Gospel)

---
INTRODUCTION
A dedicated walk in the Lord is much needed in the hour in which we live; with adherence to God's Word, rather than the vile nature of man! The Apostle Paul gave an exhortation to the church:  Watch you, stand fast in the faith, quit you (be brave) like men, be strong. Let all your things be done with charity (love).  You know the house of Stephanas, that it is the first fruits of Achaia, and that they have addicted (dedicated) themselves to the minister of the saints (1 Corinthians 16:13-15).
It was noted that there were individuals who willing give of themselves, and cheerfully engaging in ministry of the saints, not by constraint, but applying themselves with great diligence, and zeal!  With activities available in today's culture to distract one's attention; such zeal may not be as it was in the earlier church.  

---
A Dedicated Walk
Test of Discipleship
The test of discipleship, and lack thereof, is noted in those who gave excuses why they could not readily follow the Lord.  Scripture reveals:  And it came to pass that a certain man said to him, Lord, I will follow you wheresoever you go (Luke 9:57).  And he (the Lord) said to another, Follow me.  But he said, Lord, suffer (allow) me first to go and bury my father (Luke 9:59). 
And another also said, Lord, I will follow you; but let me first go bid them farewell, which are at home at my house. And Jesus said to him, No man, having put his hand to the plow, and looking back, is fit for the kingdom of God (Luke 9:61-62).
It was noted that fit for the kingdom means suitable or usable.  One who makes life's lesser matters of greater priority than God's Word is of little use to Him. Today there is a movement to expose injustices; but how much more injustice is it to forsake a dedicated walk in the Lord, unwilling to follow Him unconditionally?

Profession of Faith
Without Wavering

Scripture reveals: Let us hold fast the profession (confession) of our faith without wavering; for he is faithful that promised; And let us consider one another to provoke (stir up) unto love and to good works: Not forsaking the assembly of ourselves together, as the manner of some is; but exhorting one another: and so much the more, as we see the day approaching (Hebrews 10:23-25).
It was noted that not forsaking the assembling is an admonition involving far more than erratic attendance (rather a dedicated walk).  It involves the entire worship of Christ and is an outward indication of an inner condition.  The assembling of God's people provides an opportunity for reciprocal encouragement, strengthening, in worship and fellowship.
A dedicated walk in the Lord will see one's feet headed to the House of God whenever the doors are open; with zeal and expectation of what awaits one there!  One reason for lack of participation is a lack of expectation toward the things of God; services in some churches, have become more of a social gathering and formality than the worship of the Lord.
Love of Many Shall
Grow Cold
Scripture reveals: Because iniquity (lawlessness) shall abound the love of many shall wax (grow) cold.  But he that shall endure to the end, the same shall be saved (Matthew 24:12-13).  It was noted that even in the midst of abounding iniquity, there were some whose love for Christ, the Gospel and saints, would not waver!
However, there were others whose zeal for Christ was greatly dampened; the power of godliness, and the vital heat of religion, being almost lost.  And through a love of the world, and of carnal ease and pleasure, the love of many grew cold; not entirely lost, but cold. 

Leaving One's
First Love
Scripture reveals:  I (Christ) have somewhat against you, because you have left your first love.  Remember therefore, from whence (where) you are fallen, and repent, and do the first works, or else I will come to you quickly, and will remove your candlestick (lampstand)  out of the place except (unless) you repent (Revelation 2:4-5).
It was noted that the solution to this condition is threefold: (1) Remember your former devotion to Christ; (2) repent of the present lack of love and devotion; (3) return to do the things that were characteristic of that first love.

Captivated by
Worldly Environment
There are many who continue to reject God's Unadulterated Word; allowing themselves to be captivated by a worldly environment, rather than a dedicated walk in the Lord according to the precepts of His Word.
Scripture reveals:  Love not the world, neither the things that are in the world.  If any man love the world, the love of the Father is not in him.  For all that is in the world, the lust of the flesh, and the lust of the eyes, and the pride of life, is not of the Father, but is of the world. And the world passes away, and the lust thereof; but he that does the will of God abides forever (1 John 2:15-17).  World signifies the evil desire and sin that is so much part of human existence; which would preclude a dedicated walk in the Lord.
There are many today who have had a falling away from their former allegiance to God because they have allowed the allurement of the world to capture their heart rather than a dedicated walk in the Lord!  The Apostle Paul encouraged the church at Corinth in their walk in the Lord, saying:  Be you steadfast, unmovable, always abounding in the work of the Lord, inasmuch as you know that your labor is not in vain (futile) in the Lord (1 Corinthians 15:58).

A True Devotion
to the Lord
A rich young ruler asked Jesus: What shall I do that I may inherit eternal life?  Jesus said:  You know the commandments.  He said, all these have I kept from my youth. 
Then Jesus beholding him loved him, and said to him, one thing you lack: go your way, sell whatsoever you have, and give to the poor, and you shall have treasure in heaven: and come, take up the cross, and follow me (Mark 10:21).  Scripture reveals that the man went away grieved: for he had great possessions.
Jesus identified the one area that revealed the man's lack of devotion to God; he could not turn loose of his worldly treasure for a heavenly gain. A dedicated walk in the Lord sometimes requires for one to do so; if it would hinder a total surrender to Him. 
What would one embrace; or attempt to hold fast too, or be tempted by, that would cause one to lose out on a dedicated walk in the Lord?  What would hold one so spellbound that they would walk away (as the rich young ruler) from the greatest treasure of all; walking hand in hand with a loving Savior, the Lord Jesus Christ!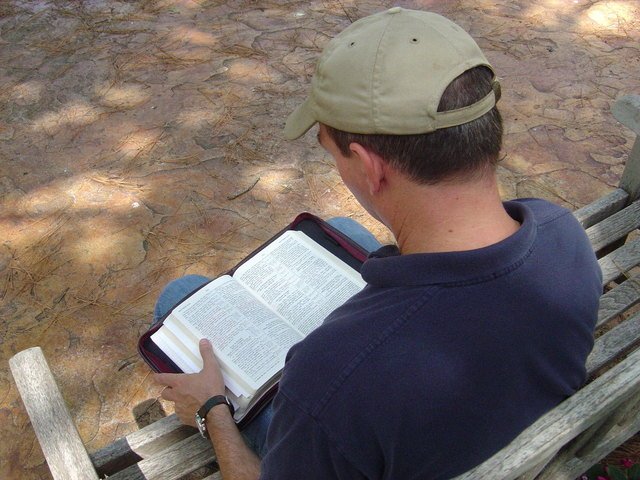 GOT QUESTIONS  A Website where Bible questions are answered.  With over 4,500 answers to frequently asked Bible questions published online, approximately 75% of the questions have answers available instantly.  This Website is an easy way to search out any questions you may have.