ALLOWANCE FOR THE
UNGODLY

---
INTRODUCTION
Allowance for the ungodly has drastically increased in scope and statute as we see ungodly individuals rising to power and domination as in the pre-Flood days of Noah, Sodom and Gomorrah, and Babylon the hold of every foul spirit. This paints a bleak picture but unfortunately it has become a reality and not a myth. 
In Greek mythology a story is told of a box sent by the gods to Pandora, which she was forbidden to open. She opened the box out of curiosity that loosened a swarm of evils upon mankind: a prolific source of troubles. Pandora's box of evils is mentioned in modern day terminology to ascertain the seriousness of the matter at hand. Allowance for the ungodly is amassing a seemingly insurmountable crisis; rightfully so, if it were not for belief in and looking too the Almighty God!
---
Allowance for the Ungodly
Darkness Ahead
In a prophecy given in a camp meeting were these words: When I visit My people in mighty revival power, it is to prepare them for the darkness ahead. With the glory shall come great darkness, for the glory is to prepare My people for the darkness. 
Scripture reveals:  Behold, darkness shall cover the earth, and gross darkness the people: but the Lord shall arise upon you, and his glory shall be seen upon you (Isaiah 60:2).  The prophet Isaiah revealed a time when Israel would arise out of her darkness and shine with God's glory; as will any nation that continues to uphold the Word of God and walk therein!
Surfacing of Evilness
Allowance for the ungodly is not only surfacing but enacted with such names as Socialism, Marxism, cousins to Communism; Critical Race Theory (CRT), the Great Reset Plan instituted by the World Economic Forum; Diversity, Equity, and Inclusion (DEI) transformation; to name a few that would play havoc with democracy as we know it.
Allowance for the ungodly goals include: Discredit family as an institution; control of the schools to use as tools for promoting desired agenda; eliminate all laws governing obscenity by calling them violation of free speech and free press; break down cultural standards of morality; promote homosexuality as normal, natural, and healthy; infiltrate the press, gain control of key positions in government, radio, TV, and motion pictures; infiltrate the churches and replace revealed religion with social religion.
Righteous Remain
Silent
It was noted that the World suffers not because of the violence done by the wicked but because the righteous keep silence (Napoleon Bonaparte).  It is unfortunate that in many lands those that were formerly dedicated to God are now making allowance for the ungodly to surface and spread their poisonous agenda. 
It is unfortunate that there is a drawing away from God rather than a closer walk as we see the evilness of man evading the land; to change cultural beliefs, the erosion of godly precepts being replaced by ungodly agenda, and deterioration of godly principles previously enshrined in the land.  
Deliverance of the Godly and
Unjust Punished
God will always make provision for the godly individuals holding fast to His Word.  Scripture reveals: God spared not the old world (pre-Flood days of Noah), but saved Noah the eighth person, a preacher of righteousness, bringing in the flood upon the world of the ungodly; and turned the cities of Sodom and Gomorrah into ashes condemned them with an overthrown (destruction), making them an example to those that afterward should live ungodly.  And delivered just Lot (from Sodom), vexed (tormented) with filthy conversation (conduct) of the wicked (2 Peter 2:5-7).
The Lord knows how to deliver the godly out of temptation, and to reserve the unjust (ungodly) to the Day of Judgment to be punished (2 Peter 2:9). God always makes a provision for His people; to those who look to Him, and walk in His ways!

How Dark the Moment
May Be
In a poem titled: "This too will Pass Away" by an unknown author, are found these words: If I can endure for this minute whatever is happening to me, no matter how heavy my heart is or how dark the moment may be. If I can remain calm and quiet with my entire world crashing about me secure in the knowledge God loves me.
If I can but keep on believing what I know in my heart to be true that darkness will fade with the morning and that this will pass away too; then nothing in life can defeat me. For as long as this knowledge remains I can suffer whatever is happening, for I know God will break all the chains that are binding me tight in the darkness trying to fill me with fear. For there is no night without dawning and I know that my morning is near.
Light Shining Forth
It was noted that darkness is the absence of light; and darkness alone cannot dispel the light, but the smallest light can dispel the greatest darkness.  Jesus said: Let your light so shine before men, that they may see your good (godly) works, and glorify your Father which is in heaven (Matthew 5:16). 
In the midst of the pre-Flood days of Noah there was light shining forth through Noah, a preacher of righteousness.  In the midst of Sodom there was light shining forth through Lot, a righteous man.  We see allowance being made for the ungodly through rulings, laws of the land, accommodating such activities, but thank God the light that is still prevalent by those taking a godly stand to offset such trends!
Biblical Values or
Secular
It was noted that eventually kingdoms crumble because they ascended to dominance on the shaky foundation of human ingenuity, political intrigue, selfish interest, and human economy.  Over the last half-century, the family has been remade through cohabitation, same sex marriage, single-parent homes, and transgenderism; all contributing to the breakdown of the traditional family (husband, wife, and children) which now represents less than 25% of American families. 
Which will it be Christian Biblical values or totally secular values? The answer lies within each individual; will they be a light unto the truth or fall in line with the ungodliness that is being manifested?
Answer to Prayer
in Adversary
Scripture records that David turned to the Lord when compassed (surrounded) by the wickedness of man:  When the waves of death compassed me, the floods of the ungodly men made me afraid (overwhelmed me) (2 Samuel 22:5).
In my distress I called upon the Lord, and cried to my God: and he did hear my voice out of his temple, and my cry did enter into his ears. Then the earth shook and trembled; the foundations of heaven moved and shook, because he was wroth (angry) (2 Samuel 22:7-8).
God took note of His servant David, as He does today towards believer's who call upon Him! In addition we have a Savior, the Lord Jesus Christ, who intercedes for us, as believers, who have accepted Him into our hearts and lives, and are walking in His ways!
Council of the
Ungodly
Scripture reveals: Blessed is the man that walks not in the counsel of the ungodly (making allowance for the ungodly), nor stands in the way of sinners, nor sits in the seat of the scornful (being attentive to their ways) (Psalm 1:1).  He shall be like tree planted by the rivers of waters, that brings forth his fruit in his season; his leaf shall not wither; and whatsoever he does shall prosper (Psalm 1:3).
The ungodly are not so: but they are like the chaff which the wind blows away (Psalm 1:4).  For the Lord knows the way of the righteous; but the way of the ungodly shall perish (Psalm 1:6).
Ungodly Dig Up
 Evil
Scripture reveals:  A ungodly man digs up evil: and in his lips there is as a burning fire (Proverbs 16:27).  There are certain men crept in unawares (unnoticed), who were before (long ago) of old ordained to this condemnation, ungodly men, turning the grace of our God into lasciviousness (license to immorality), and denying the only Lord God, and our Lord Jesus Christ (Jude 1:4). 
God's Word declares the end result:  The Lord comes with ten thousands of his saints to execute judgment upon all, and to convince (convict) all that are ungodly among them of all their ungodly deeds which they have ungodly committed, and of all their hard speeches (harsh things) which ungodly sinners have against him (Jude 1:14-15).
Ungodliness Never
a Winner
There is a surfacing of allowance for the ungodly being declared; which was previously done in secret but now with boldness in promulgation of the previously unacceptable, as the depravity of man dives headlong into acceptance rather than rejection!  
The allowance for the ungodly is gaining in momentum but will be dealt with in God's time.  Scripture reveals that in the pre-Flood days of Noah ungodliness did not win out: Whereby the world that then was being overflowed with water, perished (with acceptance of those in the ark of safety) (2 Peter 3:6).
Day of the Lord
Scripture reveals what lies in the future: The day of the Lord will come as a thief in the night, in which the heavens and the earth shall pass away with a great noise, and the elements shall melt with a fervent heat, the earth also and the works that are therein shall be burned up (2 Peter 3:10-11).  
Nevertheless we (the believers in Christ), according to His (God's) promise, look for new heavens and a new earth, wherein dwells righteousness.  Seeing that you look for such things, be diligent that you may be found of him in peace, without spot, and blameless (2 Peter 3:13-14).
Seeing that you know these things (that which is coming upon the earth), beware lest you also, being led away with the error of the wicked (allowance for the ungodly), fall from your own steadfastness (faithfulness). But grow in grace, and in the knowledge of our Lord and Savior Jesus Christ (2 Peter 3:17-18).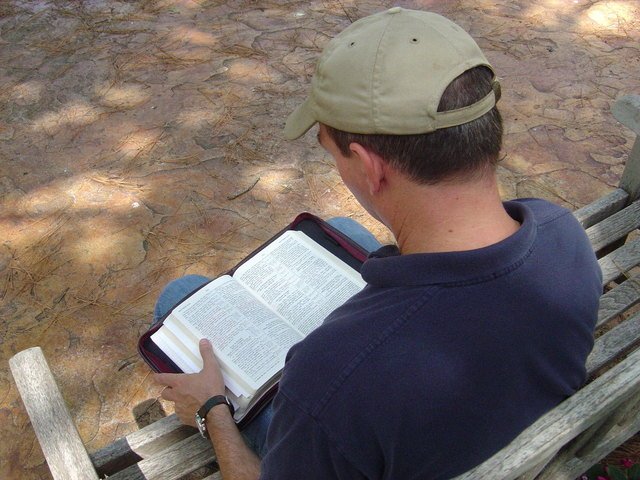 GOT QUESTIONS  A Website where Bible questions are answered.  With over 8,000 answers to frequently asked Bible questions published online, approximately 85% of the questions we are asked already have answers available to you instantly.  This Website is an easy way to search out any questions you may have.