AS A ROARING LION
---
INTRODUCTION

As a roaring lion is used as a biblical reference to one's enemy; and as such is a descriptive narrative used many times in God's Word.  The lion is a large carnivorous animal found in Southern Asia and in most parts of Africa.
It is the national emblem of Great Britain.  There is also the Lion of St. Mark, a winged lion, reported as the emblem of the evangelist Mark, noted by a bronze surmount on a granite column in Venice, with the lion holding a open book in its fore paws representing St. Mark's Gospel.  

---
As a Roaring Lion
Samson

Scripture reveals: Sampson, and his father and his mother, came to the vineyards of Timnath; and, behold, a young lion roared against him.  And the Spirit of the Lord came mightily upon Samson, and he rent (laid) hold on him as he would have rent a kid (a goat), and he had nothing in his hand: but he told not his mother or father what he had done (Judges 14:5-6). 
God's Spirit come on Samson many times, to give him victory over Israel's enemy the Philistines; killing a thousand Philistines with the jawbone of a donkey, carrying away the massive gate of Gaza, being empowered by God's Spirit, he performed many heroic deeds. 
Sampson was included among the heroes of faith, Scripture reveals: What shall I (Writer of the Book of Hebrews) more say? For the time would fail me to tell of Gideon, and of Barak, and of Samson, and of Jephthah; of David also, and Samuel, and of the prophets who through faith subdued kingdoms, wrought righteousness, obtained promises, stopped the mouth of lions (Hebrews 11:32-33).
Messiah Compared
to a Lion
In the Book of Hosea as a roaring lion is in reference to the coming Messiah (Deliverer):  They (the people) shall walk after the Lord: he shall roar like a lion: when he shall roar, then the children shall tremble from the west (Hosea 11:10). 
It was noted that the Messiah was compared to a lion for his strength and courage, and for the fierceness of his wrath against his enemies; and his voice and words, like the roaring of a lion, exceeding loud and reaching far, even to the uttermost parts of the earth. 
Jesus is identified as the foretold Messiah.  Scripture reveals:  He (Andrew) first finds his own brother Simon, and said to him, We have found the Messiah, which is, being interpreted (translated), the Christ (John 1:41). 
Delivered from the Mouth
of the Lion
Scripture reveals:  The roaring of the lion, and the voice of the fierce lion, and the teeth of the young lions, are broken.  The old lion perishes for lack of prey, and the stout lion's whelps are scattered abroad (Job 4:10-11). 
The teeth of lions are very strong in both jaws; they have fourteen teeth, four cutters, four canine type teeth, and six grinders.  All intended to do their destructive work; except when broken, then the lion perishes for lack of prey.
Scripture reveals that the Apostle Paul was delivered out of the mouth of the Lion.  This is a reference of his being delivered from death many times as a roaring lion which would seek to devour him.  The Apostle Paul stated:  The Lord stood with me and strengthened me; that by me the preaching might be fully known: and that all the Gentiles might hear: and I was delivered out of the mouth of the lion.  And the Lord shall deliver me from every evil work, and will preserve me unto his heavenly kingdom; to whom be glory forever and ever (2 Timothy 4:17-18).

Adversary the Devil
Scripture reveals: Be sober, be vigilant, because your adversary the devil; as a roaring lion, walks about seeking whom he may devour (1 Peter 5:8).  This is on account of his strength, rage, and malice, which he, as a roaring lion, breathes out against the saints.
It was noted that sobriety and watchfulness is necessary in the life of a Christian: for unless one is sober in body and mind, he will not be watchful enough against the snares of the devil and the world. 
There is an assurance given in God's Word: Whom resist steadfast in the faith, knowing that the same afflictions are accomplished in your brethren (experienced by) that are in the world.  But the God of all grace, who has called us unto his eternal glory by Christ Jesus, after that you have suffered awhile, make you perfect, establish, strengthen, and settle you (1 Peter 5:9-10).
Attempt to Suffocate
Godliness of Man

We are living in a time that evilness is attempting to suffocate the godliness of man.  As a roaring lion it breathes on those who attempt to live a godly life in Christ Jesus.  Scripture reveals:  Inasmuch then as Christ has suffered for us in the flesh, arm yourselves likewise with the same mind: for he that has suffered in the flesh has ceased from sin. That he no longer should live the rest of his time in the flesh to the lusts of men, but to the will of God (1 Peter 4:1-2).
Wherein they (the ungodly) think it strange that you run not with them to the same excess of riot, speaking evil of you (1 Peter 4:4).  Neither yield (present) your members as instruments (weapons) of unrighteousness unto sin but yield (present) yourselves to God, as those that are alive from the dead, and your members as instruments (weapons) of righteousness unto God (Romans 6:13). 
In the day-to-day confrontation with sin the Christian is to not give in! Scripture reveals: Present your bodies a living sacrifice, holy, acceptable to God, which is your reasonable (rational) service. And be not conformed to this world; but be transformed by the renewing of your mind; that you may prove what is that good, and acceptable, and perfect will of God (Romans 12:1-2). 
It is noted that the believer is to resist being poured into the mold of present day thinking, value systems, and conduct of this world; he is to walk in the newness of life in Christ Jesus!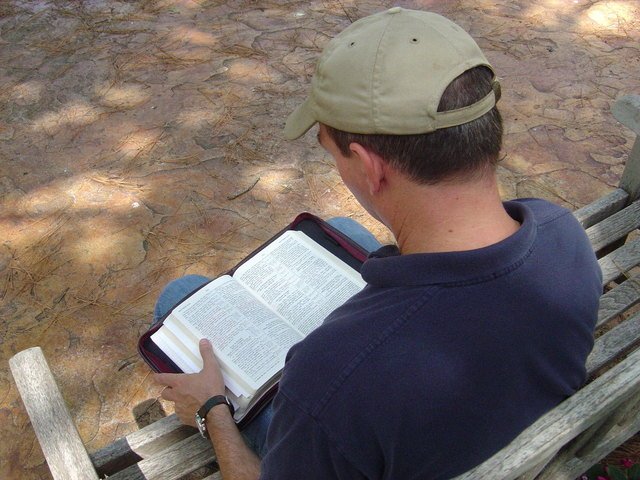 GOT QUESTIONS  A Website where Bible questions are answered.  With over 4,500 answers to frequently asked Bible questions published online, approximately 75% of the questions have answers available instantly.  This Website is an easy way to search out any questions you may have.