DETERRENT TOWARDS
HEALTH
By Roy Burner (Minister of the Gospel)
---
INTRODUCTION
Deterrent towards health is when someone ignores warning signs and pursues their own charted course; as that of the Titanic, a vessel believed to be unsinkable. 
Warning signs are coming into foreplay, in many lands, as a power grab to enslave towards a socialist and communistic state go unheeded. The democracy fought for is slowly crumbling as the deterrent towards health of a nation ebbs its way into existence. 
---
Deterrent Towards Health
Failure to Discern the Times
In Jesus' day, the Pharisees asked for a sign.  Jesus' response:  When it is evening, you say it will be fair weather: for the sky is red.  And in the morning it will be foul weather today: for the sky is red and lowring (threatening); but can you not discern the signs of the times (Matthew 16:1-2)?
Through deception; many have become blinded to the reality of what is coming, through truth being masked over and acceptance of the previously unacceptable.  A cancel and submissive style culture is attempting to wipe away all traces of the past; towards traits that will enslave rather than continue freedom.
Sacrificed Health of 
a Nation
An unknown author wrote: The greatest mistake a man can make is to sacrifice health for any other advantage.  The dynamics' of what is happening, in many lands, is through a power grab that has been in the making for a long time; but is now openly being proclaimed through deception.
A Sunday school commentary noted: A certain political leader spoke about the blessing of the Almighty and the Christian beliefs which would become the pillars of the new government.  He displayed his tattered Bible and declared that he drew strength for his great work from it; with many Christians saying he was a man sent from God.  Who was this leader?  It was Adolf Hitler.
Many voices are declaring that which will tickle the ear to gain the admiration of those whom they seek to dominate.  When the masses are confronted with an ideology; that increases acceptability, it is the beginning of a takeover of those who are ignorant of the truth.
Strength and Hope
Perished
Scripture reveals: My strength and my hope is perished from the Lord (Lamentations 3:18).  It was given in reference to a time when Israel suffered a deterrent towards health it once enjoyed. The people were carried away captive; no longer having true peace, in a foreign land, in an enemy's country, with no peace of of the soul as before.
Oftentimes such peace is not missed until it vanishes away and enslavement comes into focus.  We are seeing a decline in servitude to the Lord, in many nations, as acceptance of ungodly ways are being enhanced and portrayed as acceptable.
Former Stand
Many once powerful nations have allowed a deterrent towards health play into focus.  Others are beginning to fold under the pressure of influences seeking to dominate, and control, rather than enhance a godly culture.
Thomas Jefferson wrote: God who gave us life gave us liberty.  Can the liberties of a nation be secure when we have removed a conviction that these liberties are the gift of God?  I tremble for my country when I reflect that God is just, that His justice cannot sleep forever.  
John Adams:  Our Constitution was made only for a moral and religious people; it is wholly inadequate to the government of any other.  Ronald Reagan: If we ever forget that we are one nation under God, then we will be a nation gone under.  Voices of the past openly declaring what a deterrent towards health of any nation will entail; if allowed to continue.
Suffering the Consequences
A Sunday school commentary noted: No nation can continue to ignore God and sin freely without suffering the consequences of that lifestyle.  No matter how blessed a nation has been, if it forsakes God, it faces His great displeasure.  The destiny of nations is still in the hands of a sovereign God. 
Unless we heed the lessons of history, a calamity can come upon us as suddenly and even more devastating than that which came upon the God-defying Belshazzar and his drunken associates who were weighed in the balance and found wanting.  
Scripture reveals: In the same night Belshazzar, the king of the Chaldeans, was slain (Daniel 5:30).  It is a fearful thing to fall into the hands of a living God (Hebrews 10:31); which expresses the severity and certainly of God's judgment.
Fear of God
When the fear (reverence) of God is manifested in a nation; deterrent towards health of that nation is no longer a stumbling block because of its acceptance of a sovereign God.  The Psalmist wrote: Why are you cast down, O my soul? And why are you disquieted within me: Hope in God; for I shall yet praise him, who is the health of my countenance (Psalm 42:11).
A Bible commentary noted: As the bodily health of man is seen in the countenance; so is the spiritual health that one has in the Lord, making his countenance cheerful, filled with joy unspeakable and full of glory, and causes one to lift up his head, with holy boldness and confidence, without shame or fear.
Pleasant Words
Sweeter than Honey
Scripture reveals: Pleasant words are as a honeycomb, sweet to the soul, and health to the bones (Proverbs 16:24).  A Bible commentary noted: They are sweet to the soul of him that understands them, and that has a spiritual taste for them; to who Christ is precious, who has tasted that He is gracious; to them they are sweet, even sweeter than the honey or the honeycomb.
But not to a natural and unregenerate soul, whose natural taste remains in him, and is not changed, who calls evil good, and good evil; puts bitter for sweet, and sweet for bitter.   There is a falling away; a deterrent towards health of any nation, if such individuals are allowed to be an influence to others. 
Increased Hostility

A Sunday school commentary noted: Christian free nations, can be thankful to live relatively free from persecution.  Nevertheless, the increasing hostility toward Christians, in such nations, may be a sign of worse times to come.
As such nations begin moving toward living entirely by secular values; Christians who adhere to the Bible, and historically Orthodox Christian faith will be hatred by the world.  Those words give a warning to what fate awaits those who allow the tentacles of secularism to grip a nation; a deterrent towards health of any nation.  
Pulpit is Responsible 
A legendary evangelist of the first Great Awakening, Charles G. Finney, stated: Brethren, our preaching will bear its legitimate fruits.  If immorality prevails in the land, the fault is ours to a great degree.  If there is a decay of conscience, the pulpit is responsible for it.  If the church is degenerate and worldly, the pulpit is responsible for it.
If Satan rules in our halls of Justice, the pulpit is responsible for it.  If our politics become so corrupt that the very foundations of our government are ready to fall away, the pulpit is responsible for it.  Let us not ignore this fact; but let us lay it to heart, and awake to our responsibility in respect to the morals of this nation.
Forgotten God
Abraham Lincoln declared: We have been the recipients of the choicest bounties of heaven; we have been preserved these many years in peace and prosperity; we have grown in numbers, wealth, as no other nation has ever grown, but we have forgotten God. 
We have forgotten the gracious hand that preserved us in peace and multiplied and enriched and strengthened us, and we have vainly imagined, in the deceitfulness of our hearts, that all these things were produced by some superior wisdom and virtue of our own.  Intoxicated with unbroken success, we have become too self-sufficient to feel the necessity of redeeming and preserving grace, too proud to pray to the God that made us.
Under such circumstances there is a falling away from the God of one's youth.  When there is no retreat from such a deterrent towards health of any nation; it is at the mercy of the merciless!  A Sunday school commentary noted: The corrosive immoral breath of the 21st century has devastated our resources of security.
State of Well Being
Deterrent is something that interferes with or delays action or progress.  A Arabian proverb noted: He who has health has hope, and he who has hope has everything.  Health is a state of well being; the general condition of the body and mind.  
As good is woven into society it gives hope; when evil is woven into a society it diminishes that hope.  Again the words of the Psalmist: Why are you cast down, O my soul? And why are you disquieted within me: Hope you in God (Psalm 42:11).  
Deterrent towards health of any nation; lies not in man. but God!  When He is woven into our inner being; through His Son, the Lord Jesus Christ, hope is forever nourished even in the midst of the evil that attempts to offset such hope!
Stand Fast
The Apostle Paul, in writing the the Thessalonians, said:  Stand fast, and hold the traditions which you have been taught (handled down), whether by word, or our epistle.  Now our Lord Jesus Christ himself, and God, even our Father, which has loved us, and has given us everlasting consolation and good hope through grace; comfort your hearts and establish you in every good word and work (1 Thessalonians 2:15-17).
The Psalmist wrote: Walk not in the counsel of the ungodly (wicked), nor stand in the way of sinners (not to entertain their ways), nor sit in the seat of the scornful (or hateful).  But his delight is in the law of the Lord; and in his law (the Word of God) does he meditate day and night.
And he shall be like a tree planted by the rivers (channels) of water, that brings forth his fruit in his season; his leaf shall not wither; and whatsoever he does shall prosper.  The ungodly are not so: but are like the chaff which the wind drives away (Psalm 1:1-4).  Deterrent towards health of any nation is in failing to adhere to the Unadulterated Word of God; thus becoming as the chaff blown by the wind, the fate of the ungodly.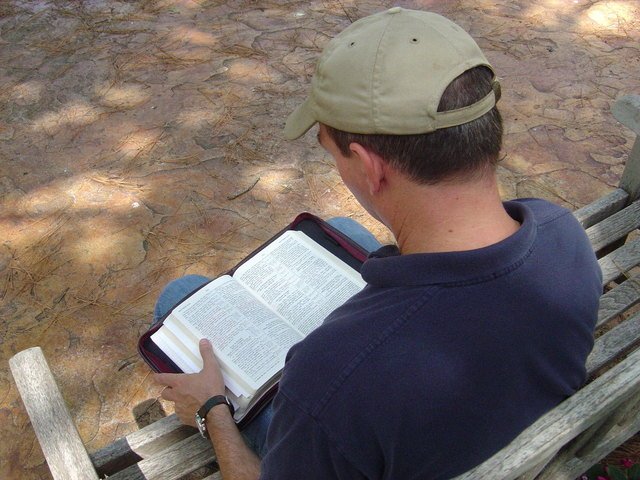 GOT QUESTIONS  A Website where Bible questions are answered.  With over 4,500 answers to frequently asked Bible questions published online, approximately 75% of the questions have answers available instantly.  This Website is an easy way to search out any questions you may have.