DIRECTION IN LIFE
By Roy Burner - Minister of the Gospel
---
INTRODUCTION
Direction in life oftentimes is not by choice but there is one who can see us through every difficulty in life; if allowed.  Scripture reveals:  The eye of the Lord is upon them that fear him, upon them that hope in his mercy; to deliver their soul from death, and to keep them alive in famine (Psalm 33:18-19).  Let your mercy, O Lord, be upon us according as we hope in you (Psalm 33:22).
There is a way which seems right to a man; but the end thereof are the ways of death (Proverbs 14:12).  The way which seems right may not be the best or righteous way!  Scripture advice is given to help prevent such a mistake:
Trust in the Lord with all your heart; and lean not in your own understanding.  In all your ways acknowledge him, and he shall direct your paths (Proverbs 3:5-6).
God's Word is instrumental in one's direction in life; if allowed, by not endeavoring to chart one's own course.  
---
Direction in Life
(In Troublesome Times)
Trust in the Lord; not self, is at times is difficult because one sees circumstances in life prevail; and have a tendency to chart their own course through those troublesome times.  
I believe as this world continues to chart it own course; without the help of God, times will become increasingly more difficult, as man walks away from God to conquer the problems at hand without His divine help.
Leaning into one's own understanding brings one in direct opposition to trusting in the Lord.  The Word of God should be one's standard of faith and practice; being guided by its instructive nature, and not leaning in one's own understanding.  
A Drastic Turn in Life
Direction in life has taken a drastic turn, for the worse, because there is less moral strengthening of a nation as immorality takes an upturn; openly flaunted before all.  The youth of the land are no exception as they are nourished from a young age; towards acceptance of a world that has  exploded with the unrighteousness of man.
The filtering of ungodly ways use to be the Word of God dwelling in the heart of man.  But now there is less room for such with the unrighteous seed of man being sown.  This makes the Scripture: In all your ways acknowledge him, and he shall direct your paths (Proverbs 3:6) of extreme importance.  There is a dire need for once godly nations to return to the God of their youth!
Quotes Concerning Direction in Life
Quotes concerning direction in life:  The great thing in the world is not so much where we stand, as in what direction we are moving (Oliver Wendell Homes, Sr.).  Our lives are a manifestation of what we think about God (Unknown Author).  Life is but one continual course of instruction (Rowland Hill).
Life is God's novel so let him write it (Isaac Bashevis Singer). Life falls into place only with God (H. G. Wells).  God has given a man a short time here on earth, and yet upon this short time eternity depends (Jeremy Taylor).  All these statements stress the importance of God being in our direction in life!
Age of Information
A Sunday school commentary noted: We live in what is called by man "the age of information."  We are bombarded with words, via computer-based devices, television, movies, etc., but have we heard the word from the Lord?
By far more than we need to hear any other word, we need to hear the Word of God, allowing His Word to give direction in our lives.  No nation can continue to ignore God, and sin freely, without suffering the consequences of such a lifestyle.  No matter how blessed a nation has been, if it forsakes God it faces His great displeasure.
Voices of the Past
Voices of the past have helped sound the alarm towards immorality; walking away from God, and taking a wrong direction in life, can only usher in God's judgmental strokes, which are given to get the attention of man.
We, as the people of God, need to take a stand towards a godly life; weeding out the impurities of this life, or temptations that may allure one toward such a avenue.  The enemy of one's soul; Satan, is good at using the right bait to lure one away from the instructive Word of God!
A Different Direction in Life
The New Testament reveals how Moses dealt with the allurement of the pleasures of this world:  By faith Moses, when he was come to years (or came of age), refused to be called the son of Pharaoh's daughter; choosing rather to suffer affliction with the people of God, than to enjoy the pleasures of sin for a season (Hebrews 11:24-25).
Had Moses direction in life not taken such a drastic turn, through his own choice, he would not have been chosen as the man of God to lead his people from the bondage of Egypt!
Ways of the World
Scripture gives a direction in life that one should avoid:  Love not the world, neither the things that are in the world.  If any man love the world, the love of the Father is not in him.  For all that is in the world, the lust of the flesh, and the lust of the eyes, and the pride of life, is no of the Father, but is of the World.
And the world passes away, and the lust thereof; but the that does the will of God abides forever (1 John 2:15-17).  World signifies the evil desire and sin that is so much a part of human existence; and has rapidly increased in its persuasive methods, in the electronic age we live in.
Fate of Those Who Ignore God's Direction in Life
Scripture reveals the fate of those who chose to ignore God's direction in life:  The heavens and the earth, which are now, by the same word (as in Noah's day) are kept in store, reserved unto fire against (or until) the day of judgment and perdition (or destruction) of ungodly men (2 Peter 3:7)
The day of the Lord will come as a thief in the night, in which the heavens shall pass away with a great noise, and the elements shall melt with fervent heat, the earth also and the works that are therein shall be burned up.  Seeing that all these things shall be dissolved, what manner of persons ought you to be in all holy conversation (or conduct) and godliness (2 Peter 3:10-11).
Those Who Remain Faithful
God gives a promise to those who remain faithful:  Nevertheless we (the believers in Christ), according to his promise, look for a new heavens and a new earth, wherein dwells righteousness (2 Peter 3:13).  
Along with this promise comes a warning: Seeing you know these things before (or beforehand), beware lest you also, being led away with the error of the wicked, fall from your own steadfastness.  But grown in grace, and in the knowledge of our Lord and Savior Jesus Christ.  To him be glory both now and forever (2 Peter 3:17).  God expects the believer to walk in His ways, not adopting the ways of the world, knowing that His direction in life will sustain them.
Walk Not As Others
The Apostle Paul encouraged the Ephesians to embrace the ways of the Lord, in writing:  This I say, and testify in the Lord, that you henceforth walk not as the Gentiles walk, in the vanity (or futility) of their mind.  Having the understanding darkened, being alienated from the life of God through (or because of) that ignorance that is in them, because of the blindness (or hardening) of their heart (Ephesians 4:17-18).
The blindness mentioned refers to the hardness of their heart towards the things of God; consuming the things of the world, rather than the things of God, which would cause them to be separated from a life in God.  
Before in Darkness
Paul revealed:  But you were sometimes (or once) darkness, but now are you light in the Lord: walk as children of light (Ephesians 5:8).  A Bible commentary noted: Darkness indicates that the readers use to be spiritually unenlightened, and accompanying this ignorance was immorality with the result of guilt and misery.
Light denotes that the recipients are now religiously informed.  There knowledge of truth is to be attended by moral purity.  Let us pray that the darkness in people's lives will be replaced by the glorious Gospel of Christ and His marvelous light!
Light in Midst of Human Depravity
Scripture reveals:  Let your light so shine before men, that they may see your good works, and glorify your Father which is in heaven (Matthew 5:16).  Those words declare the direction in life of a Christian to the world around him.
A Bible commentary noted: The Christian's light is to clearly shine forth into the darkness of human depravity.  Darkness is the absence of light; and darkness alone cannot dispel the light, but the smallest light can dispel the greatest darkness.  
Future Glory of Zion
The prophet Isaiah revealed the future glory of Zion, in saying: Arise, shine; for your light is come, and the glory of the Lord is risen upon you.  For, behold, darkness shall cover the earth, and gross darkness the people: but the Lord shall arise upon you, and his glory shall be seen upon you (Isaiah 60:1-2).
This is in reference to Israel; but it could well infer the condition that the world will come, but the Lord will intervene with His light shining forth into the hearts of many, a resurrection from that darkness into the light of the Gospel of Christ!
Trust in the Lord
The 37th Psalm gives exhortations (or direction in life) to urge the believer to confidently trust in the Lord with all of life's problems:  Trust in the Lord, and do good; so shall you dwell in the land, and verily you shall be fed (of His faithfulness).  
Delight in the Lord, and he shall give you the desires of your heart.  Commit you way to the Lord, and he shall bring it to pass (Psalm 37:3-5).  Trying times may face the believer in Christ, in these latter days, but no difficulty is above God's ability to intercede!
This Too Will Pass Away
In a poem titled:  "This too will Pass Away" by an unknown author, are these words:  If I can endure for this minute whatever is happening to me, no matter how heavy my heart is or now dark the moment may be.  If I can remain calm and quiet with my entire world crashing about me secure in the knowledge God loves me.
If I can but keep on believing what I know in my heart to be true that darkness will fade with the morning and that this will pass away too; then nothing in life can defeat me. 
For as long as this knowledge remains I can suffer whatever is happening to me, for I know God will break all the chains that are binding me tight in the darkness trying to fill me with fear  For there is no night, without dawning and I know that my morning is near.
Encouragement to Believers and Unbelievers Alike
This message was laid upon my heart, towards encouragement to the believers in Christ, who in the midst of difficult days ahead; may become discouraged.  But to keep one's eyes wholly upon their true source of help in such troublesome times; the Lord Jesus Christ and a Heavenly Father!
This message is also directed to those still in darkness, without the benefit of a Savior (the Lord Jesus Christ); that a greater hope lies in Him. than any pleasures of this world which are but for a moment.  To search Him out; for He is not far from any who  will seek Him out!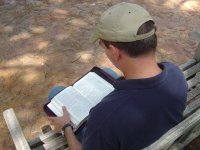 GOT QUESTIONS  A Website where Bible questions are answered.  With over 4,500 answers to frequently asked Bible questions published online, approximately 75% of the questions have answers available instantly.  This Website is an easy way to search out any questions you may have.