ENCOURAGEMENT IN
A FALLEN WORLD

---
INTRODUCTION
Encouragement in a fallen world is needed with the devil's advocate hard at work to ensure dissension, mistrust, and disunity.  There is a hostile environment of unrest that has saturated a society that is failing to support peaceful means. 
There is erosion that has taken place that outweighs the voice of a peacemaker; with shouts of angry mobs with voices of dissension that unfortunately outweigh reasonable means of persuasion!  There is an inroad being laid that does not include peaceable means but rather seeks to destroy the structural and democratic foundation of many a nation.
---
Encouragement in a Fallen
World - Peacemakers
In His sermon on the mount, Jesus said: Blessed are the peacemakers: for they shall be called the children (sons) of God (Matthew 5:9).  It was noted that peacemakers are at peace with God and desire to live in peace with all men; with peace with Christ enabling them to be ambassadors of God's message to a troubled world. 
In an hour of darkness it is needful for the brightness of God's glory to shine forth.  The Prophet Isaiah proclaimed: Arise, shine; for the light is come, and the glory of the Lord is risen upon you  For darkness shall cover the earth, and gross darkness the people; but the Lord shall be seen upon you (Isaiah 60:1-2). This is in reference to Israel but could include any nation, or people, that cling to God as their benefactor having the same assurance!
Inspire with Confidence

Encouragement in a fallen world is to inspire with confidence; giving hope and courage!  Similar words are: Comfort, exhort, reassure, and vitalize.  It was noted: Correction does much but encouragement does more (Johann Goethe).  Scripture reveals: Let us consider one another to provoke to love and to good works (Hebrews 10:24). 
It is noted that it is easy to create hatred and godless deeds; it takes much more to create love and good works.  Apostle Paul wrote: Charity (love) suffers long, and is kind; envies not; vaunts not itself (does not brag), is not puffed up (arrogant). Does not behave itself unseemly (rudely); seeks not her own, is not easily provoked, thinks no evil; rejoices not in iniquity (lawlessness) but rejoices in truth (1 Corinthians 13:4-6). 
Encouragement in a fallen world entails applying the Golden Rule: All things whatsoever you would that men should do to you, do you even so to them; for this is the law and the prophets (Mathew 7:12).  It was noted that unfortunately the Commandments, and the Golden Rule, are being forgotten by our society; to achieve our rebirth, we must recall them. Only then can we expect to survive.  Shall we survive? I do not know but I think it is possible, so we must try (Jeremiah Denton, Jr.).
Peace and Harmony
A society founded on God's Unadulterated (Pure) Word enables one to find peace and harmony; even in a fallen world.  Whenever God's Word is ignored; pursing one's own desire, allowing ungodliness to reign without reproof, enacting one's set of laws and rulings, encouragement in a fallen world is needed, rather than turning a deaf ear to such. 
It is as little David (a mere shepherd boy) facing the giant Goliath; who without God's help, would have not succeeded in being victorious! Many nations have allowed the Goliath's of this world to enhance the order of the day, through misdeeds darkening the hour, rather than peace and liberty.
Plots of Wicked
Men
The Psalmist David wrote: They encourage themselves in an evil manner; they commune (talk) of laying snares privily (secretly); they say, who shall see them (Psalm 64:5). It was noted that this psalm was a prayer that the vicious plots of wicked men against the righteous might fail. 
Jesus added to this warning in saying: Beware of false prophets, which come to you in sheep's clothing, but they are as ravening wolves (Matthew 7:15).  It was noted that false prophets were prevalent in the Old Testament times with God's true prophets often finding themselves in the minority.  Encouragement in a fallen world is needful towards the things of God; with His assistance implored, as that of the Psalmist David in his hour of need.
Prophecy Given in
a Camp Meeting
A prophecy given in a Camp Meeting revealed encouragement in a fallen world; as well as issuing a warning: When I visit My people in mighty revival power, it is to prepare them for the darkness ahead. With the glory shall come great darkness, for the glory is to prepare My people for the darkness, I will enable My people to go through because of the visitation of My Spirit.
In the last days shall come seducing spirits that shall turn many of My anointed ones away. Many shall fall through divers lusts and because of sin abounding. But if you will seek Me diligently, I will put My spirit within you. When one shall turn to the right hand or the left you shall not turn with them, but keep your eyes wholly on the Lord.
Lawlessness Shall
Abound
Jesus said: You shall hear of wars and rumors of wars; see that you be not troubled; for all these things must come to pass, but the end is not yet. For nation shall rise against nation, and there shall be famines, and pestilences, and earthquakes, in divers (various) places.
Then shall they deliver you up to be afflicted and shall kill you; and you shall be hated of all nations for my name's sake.  And then shall many be offended, and shall betray one another, and shall hate one another. And many false prophets shall rise, and shall deceive many.  Because iniquity (lawlessness) shall abound, the love of many shall wax (grow) cold (Matthew 24:6-12). In face of all these happenings Jesus encouraged the faithful to persevere!  
No Night Without
Dawning
In a poem entitled "This too Shall Pass Away," by an unknown author, are these words of encouragement in a fallen world:  If I can endure for this minute whatever is happening to me, no matter how heavy my heart is or how dark the moment may be. If I can remain calm and quiet with my entire world crashing about me secure in the knowledge God loves me.
If I can but keep on believing what I know in my heart to be true that darkness will fade with the morning and that this will pass away too; then nothing in life can defeat me. For as long as this knowledge remains I can suffer whatever is happening, for I know God will break all the chains that are binding me tight in the darkness trying to fill me with fear. For there is no night, without dawning and I know that my morning is near.
Peace of God
Jesus said: Peace I leave with you, my peace I give to you; not as the world gives, give I to you.  Let not your heart be troubled, neither let it be afraid (John 14:27).  Many have failed to receive such encouragement in a fallen world but are allowing such to overtake them. 
Apostle Paul wrote: Be careful (anxious) for nothing; but in everything by prayer and supplication with understanding let your requests be made known to God.  And the peace of God, which passes all understanding, shall keep your hearts and minds through Christ Jesus (Philippians 4:6-7). 
It was noted that the solution of undue anxiety is prayer in everything; in every facet of life.  Peace which passes understanding is peace divinely bestowed in times of anxiety, so wonderful that it exceeds one's expectation!
Source of Deliverance
The Apostle Paul wrote: I can do all things through Christ which strengthens me (Philippians 4:13).  My God shall supply all your need according to his riches in glory by Christ Jesus (Philippines 4:19).  It was noted that God will meet one's need according to his riches, that is, in proportion to His unlimited resources, gloriously and in a splendid manner. 
The Psalmist David wrote: I have been young and now am old; yet have I not seen the righteous forsaken, nor his seed (offspring) begging bread (Psalm 37:25).  The believer has a vast source of deliverance, through faith and prayer, to the one who is able to sustain. 
Scripture reveals: Faith is the substance (realization) of things hoped for, the evidence of things not seen (Hebrews 11:1). For without faith it is impossible to please him; for he that comes to God must believe that he is, and that he is a rewarder of them that diligently seek him (Hebrews 11:6).
Strengthen Your Heart
The Psalmist David wrote: Be of good courage, and he shall strengthen your heart, all that hope in the Lord (Psalm 31:24).  The eye of the Lord is upon them that fear him, upon them that hope in his mercy (Psalm 33:18).  Let your mercy, O Lord, be upon us according as we hope in you (Psalm 33:22).  I sought the Lord, and he heard me, and delivered me from all my fears (Psalm 34:4).
The eyes of the Lord are upon the righteous, and his ears are open to their cry (Psalm 34:15).  The righteous cry (cry out), and the Lord hears, and delivers them out of all their troubles (Psalm 34:17).  Many are the afflictions of the righteous; but the Lord delivers him out of them all (Psalm 34:19).
Safety in Trying
Times
Encouragement in a fallen world is needed as we see nations out to destroy the very roots of Christianity; and it will take the hand of Almighty God, our Lord and Savior Jesus Christ, and that of God's Spirit, to see the believer safely through such trying moments!  
Jesus said: You are Peter (an Apostle of Christ), and upon this rock (foundation) I will build my church; and the gates of hell (evil opposition) shall not prevail against it (Matthew 16:18)!  
Encouragement in a fallen world is manifested in the words of Jesus throughout the New Testament, equipping and empowering saints of God to persevere in such times!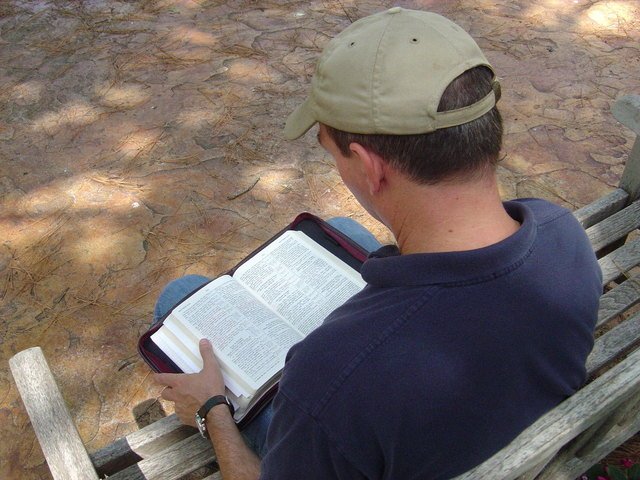 GOT QUESTIONS  A Website where Bible questions are answered.  With over 8,000 answers to frequently asked Bible questions published online, approximately 85% of the questions we are asked already have answers available to you instantly.  This Website is an easy way to search out any questions you may have.
YOU MAY BE INTERESTED IN
Latest Weekly Audio Podcast "Revival in the Word" helps identify with the Word of God concerning the economic, political, and religious times in which we live.