FEEDING THE MIND
By Roy Burner (Minister of the Gospel)
---
INTRODUCTION
Feeding the mind can be man's best friend or worse enemy; with the possibility of allowing the wrong information to be fed into one's mind.  The youth of the land are extremely vulnerable; in that they are targeted knowing they will be an influence to future generations.
Feeding is to satisfy; gratify, nourish, strengthen, and develop towards consumption.  The mind itself being a vast sea of knowledge and intellectual ability; conceives thoughts and feelings, with an ability to recall past memories.  
A Bible dictionary describes such as the faculty of reflective consciousness, of moral thinking, knowing, and meditation.  A Chinese proverb noted: A vacant mind is open to all suggestions.
---
Feeding the Mind
Suggestive Thoughts
Feeding the mind; especially one that is open to suggestive thoughts, is an open door towards retreating from normalized ways; with new provocative ways being introduced, that are more appealing,  as in the Garden of Eden. 
Scripture reveals: And when the woman (Eve) saw that the tree was good for food, and that is was pleasant (desirable) to the eyes, and a tree to be desired to make one wise, she took of the fruit thereof, and did eat, and gave also to her husband (Adam) with her; and he did eat (Genesis 3:6).
The fruit forbidden by God was made desirable by the serpent (an instrument of Satan), who countermanded the Word of God, making it appear less restrictive.  Such is the same method of feeding the mind today.  
Not only did Eve give in to temptation; but offered it to her husband as well; and he also partook in direct violation of God's Word.  Because of the actions of Adam and Eve sin and judgment came into focus.  Scripture reveals:  The wages of sin is death (which came into focus that eventful day); but the gift of God is eternal life through Jesus Christ our Lord (Romans 6:23).  God made a provision, through His Son, towards the salvation of mankind from the sin that entered into the world on that eventful day!
Offensive Thoughts
A Sunday school commentary noted: The prophet Jeremiah raises a question that needs to be directed to all of us who make up the contemporary church: How long shall your offensive thoughts lodge with you (Jeremiah 4:14)?  
Offensive thoughts can arise from many sources: Absorbing immoral movies and television programs; carelessly surfing the Internet; listening to malicious talk; ignoring the Word of God; giving into a materialistic worldview.  
Will we (the believer in Christ) allow the sanctifying Scriptures and the purifying blood of Christ to cleanse our heart and mind or will we persist in sin-filled thinking and experience God's judgment?  Proper feeding the mind will combat acceptance of the ungodliness of man.  
Awake to Responsibility
We need to awake to responsibility towards what is allowed into our mind.  What has been programmed in the mind can tarry; to be recalled long after one has divorced themselves from such an influence.  
Many today have allowed the ungodliness of man to pollute the mind rather than have safeguards to offset such an influence.  The internet has safeguards that can filter out unwanted material but at times those safeguards fail; or even be skirted past to gain entrance to what is danged before one as bait.
With the availability of the Internet, and other sources, the feeding of the mind, with the wrong influence, can become a norm; if temptation is woven in as a factor (as in the case of Adam and Eve)!  
At Enmity With God
Scripture reveals: For to be carnally minded is death; but to be spiritually minded is life and peace. Because the carnal mind is at enmity against God: for it is  not subject to the law of God, neither indeed can be.  So then they that are in the flesh (carnally minded) cannot please God (Romans 8:6-8).
This reveals the importance of the proper feeding the mind; what one allows themselves to be entertained with, though it may seem pleasurable at the moment it can be detrimental to one's soul and eternal destiny.

Laxity in Promoting
the Word of God
Scripture reveals: The time will come when they will not endure sound doctrine; but after their own lusts shall they heap to themselves teachers; having itching ears, they shall turn away their ears from the truth, and shall be turned into fables (that which is fictitious) (2 Timothy 4:3-4).
There has been a laxity in promoting the Word of God; with many voices being silenced, either by choice or threat, with a younger generation of believers no longer upholding Biblical teachings of the past.  The guiding principle of God's Word is being rapidly filtered out; with acceptability, of the previous unacceptable, being nourished through feeding the mind towards such a goal.
There has been little outcry; from churches, as immorality and ungodliness increases.  Acceptability has played into focus by those who once stood for the Unadulterated Word of God!
Falsehoods Cleverly
Disguised
Scripture reveals: Whatsoever things are true, whatsoever things are honest (noble), whatsoever things are pure, whatsoever things are lovely, whatsoever things are of a good report; if there be any virtue, and if there be any praise (anything praiseworthy), think (mediate) on these things (Philippians 4:8).
Whatsoever things are true is in regard to all that is truth and in agreement with God's Word.  The opposite of truth is falsehoods, lying, and hypocrisy.  We are witnessing the latter traits; so much so, that at times it is difficult to distinguish truth from falsehoods; because of the latter being cleverly disguised as truth.
There is an avalanche of ungodliness feeding the mind that has far surpassed the Pre-flood days of Noah, Sodom and Gomorrah, and Babylon which was the hold of every foul spirit!  Ungodliness has no regard towards God, or His Word, making mockery of such with ungodly lifestyles proudly being flaunted, that are an abomination and condemned in God's Word.
Beyond Human Decency
Scripture reveals: Be not conformed to this world but be transformed by the renewing of the mind (feeding the mind with godly virtues), that you may prove what is that good, and acceptable, and perfect, will of God (Romans 12:2).
We are living in a society that has gone far beyond the bounds of human decency; because feeding the mind has been geared towards a mentality of readily accepting what is placed before one; rather than rejecting such.

Part of the blame falls upon a modernistic church which has shied away from declaring God's standard of righteousness, by adopting the ways of the world, rather than the righteousness of God.  There is a failure towards feeding the mind of future generations with the living Word of God; by allowing the entertaining features of the world to become more acceptable.
Beguiling Unstable
Souls
The apostle Peter warned that many would walk after the flesh in the lust of uncleanness.  They would speak evil of the things they understand not; and would utterly perish in their own corruption.  They would beguile unstable souls.
Scripture reveals: These are wells without water, clouds that are carried with a tempest; to whom the midst (gloom) of darkness is reserved forever (a literal burning Hell) (2 Peter 2:17).  Feeding the mind in the right direction (a godly direction) can prevent one's entrance into such a place.
Feeding the mind should be geared towards the lifesaving message of God's Word; yielding one's heart and life over to a living Savior (the Lord Jesus Christ), coming under the influence of God's blessed Word, and avoiding pollution from within!
Ungodly Methodology
The feeding of the mind towards the wrong influence can readily play into the picture; if one has not Bible knowledge and conviction.  An immoral and ungodly society targets such through indoctrination of ungodly traits; that they themselves are partaking of, with no conviction or remorse.
We are seeing the results of feeding the mind; prompted by placing in office ungodly individuals who promote ungodly methodology.  There is a new generation giving over to the ways of the world, and its allurements, which are being more attractively presented, with titles that no longer reflect the sinfulness of such.
A Great Falling
Away
The apostle Paul told Timothy, a young evangelist: Continue in the things you have learned and have been assured of knowing of whom you have learned them.  That from a child you have known the holy commandments, which are able to make you wise unto salvation through faith which is in Christ Jesus (2 Timothy 3:14-15).

Continue means to remain in that which you have learned and been assured of.  There is a great falling away today with the moral decay of our society becoming more toxic than every before!  Scripture reveals: This know that in the last days (which are in) perilous times shall come (2 Timothy 3:1).
The prediction of perilous times indicates what will transpire in the final days.  Scripture reveals: All that will live godly in Christ Jesus shall suffer persecution. Evil men, and seducers shall wax (grow) worse and worse, deceiving and being deceived (2 Timothy 3:12-13).  Feeding the mind is of upmost importance in these last latter days as to what one will allow themselves to be entertained with; the ways of the world or that of a godly nature.
Be Fully Persuaded
Scripture reveals: One man esteems one day above another; another esteems every day alike.  Let every man be fully persuaded (convinced) in his own mind (Romans 14:5).  
There are those who entertain thoughts and ideals that clearly opposed to in God's Word and condemned.  Scripture reveals the necessity of being fully persuaded in a godly direction: Be renewed in the spirit of your mind: and that you put on the new man, which after God is created in righteousness and true holiness (Ephesians 4:23-24).
A Bible commentary noted: This scripture reveals one is to be constantly changed (by the proper feeding the mind), being brought more and more in line with God's own viewpoint, assuming a new nature (character) and conduct (life) at conversion in Christ, as one's Lord and Savior.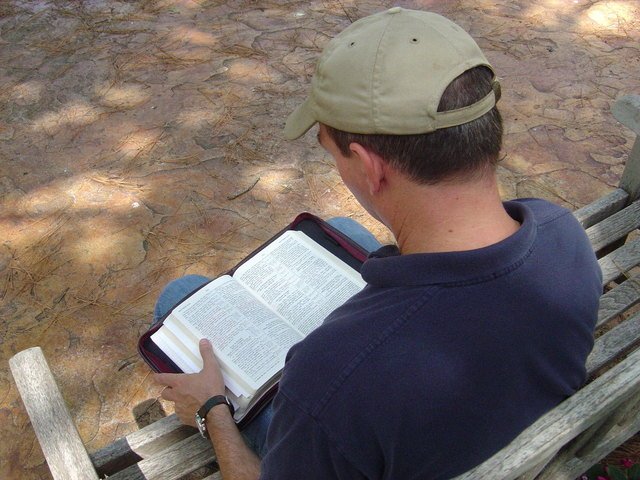 GOT QUESTIONS  A Website where Bible questions are answered.  With over 4,500 answers to frequently asked Bible questions published online, approximately 75% of the questions have answers available instantly.  This Website is an easy way to search out any questions you may have.