PERPLEXITY OF LIFE
W R Burner (Minister of the Gospel)

---
INTRODUCTION
Perplexity of life can have a drastic impact; for there are many moments in one's life that can be devastating with the pulse of life increasing in such times.  Scripture records that perplexity of life is a reality but does not have to be devastating to the believer. 

---
Perplexity of Life
Troubled but not Distressed

Scripture reveals: We are troubled (hard pressed) on every side, yet not distressed (crushed), we are perplexed, but not in despair (2 Corinthians 4:8).  Life can deliver blows that almost knocks out one's breathe of life; yet God's Word assures deliverance!
There can be all sorts of trouble, inward and outward, from the world around us, the fleshly side of man, or even the devil.  Sometimes one does not know what to do, which way to go, what course to steer, with perplexing thoughts, doubts, and possible fear for the moment!  
There is freedom through the throne of grace; for Jesus said:  Peace I leave with you, my peace I give to you: not as the world gives, give I to you.  Let not your heart be troubled, neither let it be afraid (John 14:27).

Persecuted but not
Forsaken

Scripture reveals: Persecuted, but not forsaken; cast (struck) down, but not destroyed (2 Corinthians 4:9).  There is enduring strength through God's Word; of His promise to the believer in Christ, of His assurance that one has not been forsaken but that He would be with him, even to the end of the world.
One may be pursued from place to place, cursed, reproached, laid hold on, imprisoned, threatened with tortures and even death itself; but God never leaves nor forsakes those who trust in Him! 
We are seeing many of the traits mentioned brought about through the ungodly, against those who profess Christ as Lord and Savior, but Scripture assures us:  He that shall endure unto the end shall be saved (Matthew 24:13).

In the Midst of
Affliction
The Psalmist David knew about the perplexity of life, in saying:  I sink in deep mire, where there is no standing: I am come into deep waters where the floods overflow me.  I am weary of my crying: my throat is dried: my eyes fail while I wait for my God (Psalm 69:2-3). 
He identified a solution to perplexity of life, in saying:  They reel to and fro, and stagger like a drunken man, and are at wit's end.  Then they cry to the Lord in their trouble, and he brings them out of their distresses.  He makes the storm a calm, so that the waves are still (Psalm 107:27-29).

Persecution of Jewish
 and Christians
Persecution has risen in regards to the Jewish people and Christianity in these latter days.  Many nations are attempting to weed out any growth in Christianity to enhance their own false religion.
The apostle Paul addressed the worship of a variety of gods; with some mocking him, others saying we will hear again of this matter, also with some believing his proclaiming the one and only God (Acts 17:32-34).  We are seeing growth in Christianity, in many nations, despite efforts to wipe it out.

Gathering Storm
The prophet Isaiah revealed perplexity of life in saying:  For it is a day of trouble, and of treading down, and of perplexity (confusion) by the Lord God of hosts in the valley of vision, breaking down the walls, and crying to the mountains (Isaiah 22:5).
It was noted that the gathering storm of judgment would dump its greatest torrents on Jerusalem through the coming Babylonian invasion.  There was an appeal to the people through the prophet Isaiah, saying:  Who is among you that fears the Lord, that obeys the voice of his servant, that walks in darkness, and has no light?  Let him trust in the name of the Lord, and stay (rely) upon his God (Isaiah 50:10).

Day of Calamity

When one faces the perplexity of life; whether it come through normal circumstances, the enemy of one's soul, or God himself to bring one back to him, what will one's reaction be?  Who will one turn to in the day of calamity?
The Psalmist David cried out:  Be merciful to me, O God, be merciful to me: for my soul trusts in you, in the shadow of your wings will I make my refuge, until these calamities be overpast (past) (Psalm 57:1).  He that dwells in the secret place of the Most High shall abide under the shadow of the Almighty.  I will say to the Lord, He is my refuge and my fortress: my God; in him will I trust (Psalm 91:1-2).
You shall not be afraid for (of) the terror by night; nor for the arrow that flies by day; nor for the pestilence that walks in darkness; nor for the destruction that wastes (lays waste) at noonday (Psalm 91:5-6).  
Coming of the Lord
Perplexity of life is identified in the days of the coming of the Lord.  Scripture reveals: There shall be signs in the sun, and in the moon, and in the stars, and upon earth distress of nations, with perplexity; the sea and the waves roaring; men's hearts failing them for (from) fear, and for looking after those things which are coming on the earth; for the powers of heaven shall be shaken (Luke 21:25-26).
The ungodliness of man has exalted itself through deceptive practices that leads others into its web of deceit.  There will be those whose heart will fail because of such calamity; for not having drawn closer to the Lord, but rather allowed themselves to be distanced from Him. 

Wrath of God
Scripture reveals: And the kings of the earth, and the great men, and the rich men, and the chief captains, and the mighty men, and every bondman, and every free man, hid themselves in the dens (caves) and in the rocks of the mountains; and said to the mountains and rocks, fall on us, and hide us from the face of him that sits on the throne, and from the wrath of the Lamb (the Lord Jesus Christ): for the great day of his wrath is come; and who shall (is able) to stand (Revelation 6:15-17)? 
It was noted that this describes disasters of the earth and heavenly bodies going into convulsions.  The Book of Joel predicts many of these judgments as signs of the day of the Lord.
Perplexity of life may entail token judgments from on High; in an effort to get man back on track towards acknowledging God as one's benefactor and not forsaking Him.  Man has attempted to erase God from the scene and wage a war of ungodliness to satisfy personal lusts. 

Encouragement
to Believers

The Psalmist wrote words of encouragement to believers:  Because you have made the Lord, which is my refuge, even the most High your habitation (dwelling place), there shall no evil befall you; neither shall any plague come nigh (near) your dwelling.  For he shall give his angels charge over you, to keep you in all your ways (Psalm 91:9-11).
This Psalm describes the faithfulness of God's protection.  God can, and will, deliver the faithful according to His will.  Scripture reveals that Shadrach, Meshach, and Abednego refused to bow down to a golden image set up by the king, saying: 
If it be so, our God whom we serve is able to deliver us from the burning fiery furnace, and he will deliver us out of your hand, O King.  BUT IF NOT, be it known to you, O King, that we will not serve your gods, nor worship the golden image which you have set up (Daniel 3:17-18). 
When they came out of the fire it had no power on them, nor was a hair of their head singed, neither was their clothing affected, not even the smell of fire on them; for God had miraculously delivered them from the burning fiery furnace!
Savior of One's Soul

Scripture reveals: The weapons of our warfare are not carnal (of the flesh), but mighty through God to the pulling down of strongholds; casting down imaginations (arguments), and every high thing that exalts itself against the knowledge of God, and bringing into captivity every thought to the obedience of Christ (2 Corinthians 10:4-5).  In these last days our dependence has to be on the Savior of our soul (the Lord Jesus Christ); to see us through the perplexity of life.
The 23rd Psalm reveals:  The Lord is my shepherd, I shall not want (lack).  He makes me to lie down in green pastures (tender green grass); he leads me beside the still waters (waters of rest).  He restores my soul: he leads me in the paths of righteousness for his name's sake.  Though I walk through the valley of the shadow of death (the perplexity of life), I will fear no evil: for you are with me: your rod and staff they comfort me (Psalm 23:1-4).
This psalm reveals God's abundant provision, protection, vindication before one's enemies, and eternal celebration of His goodness.  Let us, as believers in Christ, hold securely to the Master's hand to see us through the perplexity of life.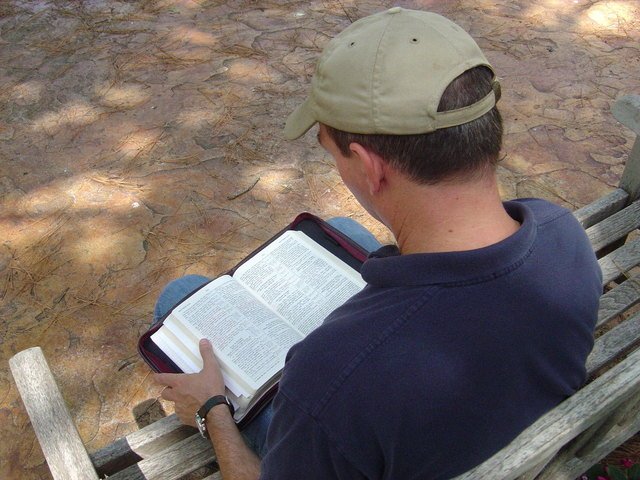 GOT QUESTIONS  A Website where Bible questions are answered.  With over 4,500 answers to frequently asked Bible questions published online, approximately 75% of the questions have answers available instantly.  This Website is an easy way to search out any questions you may have.
YOU MAY BE INTERESTED IN
Walk with God is a necessary ingredient in the life of a believer with such a walk not simply a "fishing expedition" but a dedicated walk in the Lord.

In memory of my wife I included a couple of poems that I felt were inspired by God reflecting the love for my wife.