PLACING HOPE IN
MAN

---
INTRODUCTION
Placing hope in man can have a disastrous effect if one's hope is anchored in man alone; for trusting in man and expecting great results can be dashed in a moment.  One can become excited with expectation when looking to man to solve complex issues; then be at a total loss when failure plays into the picture.
God has granted man wisdom and knowledge as evidenced by the many discoveries that has benefited mankind throughout the ages. Oftentimes placing hope in man, when interwoven with faith in God, is fruitful when man is used as God's vessel.  Man has his limitations unless God opens the door to overcome those limitations.
---
Placing Hope in Man
Involving Future
Hope is the general feeling that some desired hope will be fulfilled. Scripture reveals: Faith is the substance (realization) of things hoped for the evidence (conviction) of things not seen (Hebrews 11:1).  This verse if not so much a definition of what faith is as it is a description of what faith does.  
Things hoped for involves future hope; things not seen involves present realities that are unseen.  Many may become prominent due to substantial and widely admired contributions; intellectual endeavors, strength of action,  articulate speech, and excellent demeanor, but it is God in whom one is to place their final trust.
Man and Hope
Hope is not mere expression and desire but includes confidence, refuge, and hope in God.  Hope in man can lead to a misplaced hope when fulfillment does not materialize.  Quotes concerning man and hope: Hope means expectation when things are otherwise hopeless (G. K. Chesterton).  There is no medicine like hope (O. S. Marden).
A man without God is like a ship without a rudder (Anonymous).  Man was created a little lower than the angels and has been getting a little lower ever since (Josh Billings).  Man is still the greatest miracle and the greatest problem on this earth (David Sarnoff).  Those quotes suggest that placing hope in man can fail; if not interwoven in the Almighty God!
Hope in Man
Rather than God
Tremendous difficulties are facing many nations of the world; with some placing hope in man, rather than God, for solution to problems. Nations have drifted from God; allowing the ungodly to rule rather than godly individuals, leaving a vacuum of former hope in God.

It was noted that if we abide by the principles taught in the Bible, our country will go on prospering and to prosper; but if we neglect its instructions and authority, no man can tell how sudden a catastrophe may overwhelm us and bury all our glory in profound obscurity (Daniel Webster).
Blindly Placing Hope
in Man
Deception can play into the picture by blindly placing hope in man. This came to light when a certain political leader made frequent use of Christian vocabulary.  He spoke of the blessings of the Almighty and the Christian beliefs which would become the pillars of a new government. He spoke of his spirituality; he displayed his tattered Bible and declared that he drew strength for his great work from it. Many welcomed him as a man sent from God.  Who was this man? It was Adolf Hitler.
This reveals a recipe for disaster by placing hope in man; who would later seek to dominate the world, bringing destruction upon many. Placing hope in man begins in the mind as it formulates an intense desire to seek out an individual to solve current problems; rather than looking to God.  Adolf Hitler was not the solution to the problem at hand but became the problem!
Hope of the Unjust
Perishes
Scripture reveals: When a wicked man dies, his expectation shall perish: and the hope of the unjust man perishes (Proverbs 11:7).  Many have an expectation of long life, riches, honor, and pleasure, but find those expectations dashed when death comes knocking at the door.
Scripture tells of a man (King Solomon) who awoke to the reality that earthly gain was but vanity (a grasping for the wind).  He stated: I was great, and increased more than all that were before me.  And whatsoever my eyes desired I kept not from them.  I withheld not my heart from any joy (pleasure) for my heart rejoiced in all my labor; and this was my portion (reward) of all my labor.  
Then I looked on all the works that my hands had wrought, and on the labor that I had labored to do: and, behold, all was vanity (futility) and vexation of spirit (grasping for the wind), and there was no profit under the sun (Ecclesiastes 2:9-11).  Solomon said: Let us hear the conclusion of the whole matter: Fear God, and keep his commandments; for this is the whole duty of man, for God shall bring every work into judgment with every secret thing, whether it be good, or whether it be evil (Ecclesiastes 12:13-14).  Words that need to be taken to heart in our life as well!  
Sin is the Problem
It was noted that all around us are the signs that modern man refuses to accept the fact that sin is his problem. Many no longer call homosexuality a sin but an alternate lifestyle.  Adultery is now viewed by some as merely a relationship. Abortion is now viewed by some as an expression of a woman's right. 
Many fantasize such by placing hope in man that such activity be normalized; when in reality it is condemned in God's Word with those participating to be judged and held accountable (unless repentance comes into focus prior to Judgment Day).
Scripture reveals: I (John) saw the dead, small and great stand before God: and the books were opened: and another book was opened, which is the book of life (names of those who accepted Jesus as Lord and Savior): and the dead were judged out of those things which were written in the books, according to their works (Revelation 20:12). And whosoever was not found written in the book of life was cast into the lake of fire (Hell) (Revelation 20:15). 
Health and Countenance
Scripture reveals: Be of good courage, and he (God) shall strengthen your heart, all you that hope in God (Psalm 31:24).  The people of God were to take heart, and be of good cheer, because in the greatest distress placing hope in man might fail; but rather to place one's hope in God.
Why are you cast down, O my soul? And why are you disquieted? Hope in God: for I shall yet praise him, who is the health of my countenance (salvation), and my God (Psalm 43:5).  It was noted that there are great trials of faith experienced by the people of God, in all ages, with no reason to be cast down on account of such; but hope in God.  Many nations have pushed God aside; placing their hope in man, rather than the strengthening power of God to sustain them!
Light Verses Darkness
Scripture reveals: For God so loved the world, that he gave his only begotten Son (the Lord Jesus Christ), that whosoever believes in him should not perish, but have everlasting life.  For God sent not his Son into the world to condemn the world: but that the world through him might be saved. And this is the condemnation, that light (the Lord Jesus Christ) is come into the world, and men love darkness (sinfulness) rather than light, because their deeds were evil.
For every one that does (practices) evil hates the light, lest his deeds should be reproved (exposed) (John 3:16-20).  He that believes on the Son (the Lord Jesus Christ) has everlasting life; and he that believes not the Son shall not see life; but the wrath of God abides (remains) on him (John 3:36).  Neither is there salvation in any other: for there is no other name under Heaven whereby we must be saved (Acts 4:12).
Crept in Unawares
Scripture reveals: There are certain men crept in unawares (unnoticed) who were before of old ordained to this condemnation, ungodly men, turning the grace of God into lasciviousness (license to immorality), and denying the Lord God, and our Lord Jesus Christ (Jude 1:4).  They become as tares among the wheat, a parable of Jesus (Matthew 13:24-30). spreading their poisonous doctrines.  
There are many today who are casting aside the Unadulterated (Pure) Word of God, fleshly in nature rather than spiritual; having not the Spirit of God.  Placing hope in man (of a carnal or fleshly nature) can be devastating rather than beneficial to the soul of man.  Scripture reveals: That we may be delivered from unreasonable and wicked men for all men have not faith.  But the Lord is faithful, who shall establish you, and keep you from evil (2 Thessalonians 3:2-3). 
Will Not Endure Sound
Doctrine
The Apostle Paul told Timothy, a young evangelist: Preach the word: Be instant (ready) in season, out of season; reprove, rebuke, exhort with all longsuffering and doctrine. For the time will come when they will not endure sound doctrine; but after their own lusts shall they heap them themselves teachers, having itching ears; and they shall turn away their ears from the truth, and shall be turned into fables (that which is fictitious) (2 Timothy 4:2-4).
Preaching is the God-ordained means to prevent defection from the truth. Teachers who appeal to itching ears tell people what they want to hear, not what the need to hear. There is a dereliction of duty that needs to dealt with in regards to erroneous doctrine being brought forth!

Good or Corrupt 
Scripture reveals: Every good tree brings forth good fruit; but a corrupt tree (evilness of man) brings forth evil fruit. A good tree cannot bring forth evil fruit; neither can a corrupt tree bring forth good fruit, every tree that brings not forth good fruit is hewn down and cast in the fire (Hell); wherefore by their fruits you shall know them (Matthew 7:18-20).
The true test of a godly individual is one's conformity to the Unadulterated (Pure) Word of God.  The normal and consistent production of fruit, whither good or evil in a person's life, will bear evidence whether or not that life is of God.  Placing hope in man can be a misplaced hope and detrimental to one's spirit; if it is of the wrong source!  Scripture reveals: Continue in the things which you have learned and been assured of, knowing of whom you have learned them (2 Timothy 3:14).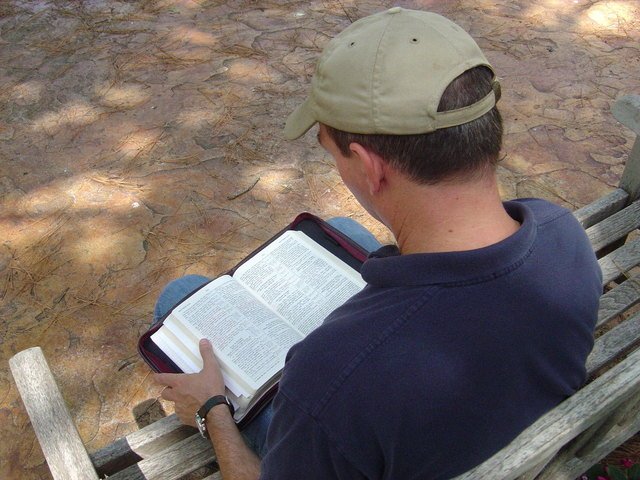 GOT QUESTIONS  A Website where Bible questions are answered.  With over 8,000 answers to frequently asked Bible questions published online, approximately 85% of the questions we are asked already have answers available to you instantly.  This Website is an easy way to search out any questions you may have.