RETURN TO GOD
By Roy Burner - Minister of the Gospel
---
INTRODUCTION
Return to God is of extreme necessity if one has withdrawn!  We are seeing devastation in the world that has shaken the very foundation of many hearts and lives; many having lost sight of a heavenly Father that is able to bring relief to the most stressed life.
In His love towards mankind, God provided His Son (the Lord Jesus Christ) to bring relief to a sin-ridden world.  Scripture reveals:  For God so loved the world, that he gave his only begotten Son, that whosoever believes in him should not perish, but have everlasting life (John 3:16).
Herein is the condemnation:  That light (the Lord Jesus Christ) is come into the world, and men loved darkness rather than light, because their deeds were evil (John 3:19).  A return to God can only come through a repentant heart; through the light of Jesus shining through the darkness of this world.
---
Return to God - Evilness of Mankind
The evilness of mankind has plagued mankind more than any calamity, pestilence, or tear-rendering misfortunes that life can dish out.  A return to God should be the prime faction in any such occurrence but man has become so hardhearted that he has excluded God from the recipe of deliverance.
We are seeing devastation that is far-reaching in the world today; with few crying out to God for deliverance.  The inroad towards destruction is being pursed with little repentance in the offering.  The one who gives the breath of life is often the last to be turned to in times of need.  
We Have Forgotten God
Abraham Lincoln stated: We have been the recipients of the choicest bounties of heaven; we have been preserved these many years in peace and prosperity; we have grown in numbers, wealth, and power as no other nation has ever grown.  But we have forgotten God!
We have forgotten the gracious hand that preserved us in peace and multiplied and enriched and strengthened us, and we have vainly imagined, in the deceitfulness of our hearts, that all these things were produced by some superior wisdom and virtue of our own.  Intoxicated with unbroken success, we have become too self-sufficient to feel the necessity of redeeming and preserving grace, too proud to pray to the God that made us.  
Have we evolved in to such a time again; not feeling the necessity of a return to God who can still the storms of life?  There has been storms of the past; with a return to God prompting deliverance, on behalf of those who realized their true source of help!  Why not now?
Secret of Success in Life
Scripture reveals:  Draw nigh (or near) to God, and he will draw nigh to you.  Cleanse your hands, you sinners; and purify your heart doubleminded.  Be afflicted, and mourn, and weep: let your laughter be turned to mourning, and your joy to heaviness.  Humble yourselves in the sight of the Lord, and he will lift you up (James 5:8-10).
In those words lies the secret of success; first identifying the true source of deliverance, then the need to realign one's life towards the God of all Creation, with a return to God, to be lifted above, or delivered, from the crisis at hand.
A Necessary Realignment
In the days of Joshua, the people turned away from God, Joshua, being the leader of the Israelites, was attempting to realign their way of thinking towards a return to God.  Scripture reveals the words of Joshua:
If it seems evil to you to serve the Lord, choose you this day whom you will serve; whether the gods which our fathers served that were on the other side of the flood (or the Euphrates), or the gods of the Amorites, in whose land you dwell: but as for me, and my house, we will serve the Lord (Joshua 24:15).
The people responded with:  We will serve the Lord (Joshua 24:21).  That commitment may have seemed enough but there was a further action required on their part: Therefore put away the strange gods which are among you, and incline your heart to the Lord God of Israel (Joshua 24:23).
Scripture reveals:  Therefore if any man be in Christ, he is a new creature (or creation): old things are passed away; behold all things are become new (2 Corinthians 5:17).  The putting away of idol worship was necessary for those in Joshua's day for a return to God; and is no less of a requirement for one putting on Christ today: in that the old man of sin has to be crucified with the newness of life, in Christ, coming into focus.
Living in a Permissive Day
It was noted:  We are living in a very permissive day when the religious world is so tolerant to most any and all kinds of standards and lifestyles.  This permissiveness and tolerance is the result of a self-willed and carnal minded society which makes it difficult towards a return to God.
As a result of such tolerance and permissiveness, there are many churches, and even denominations (in many Western nations), which have altered their teachings, their standards, and even their interpretations of the Scriptures to please, to comply with and accommodate this permissive and tolerant society.  Very few people hold to heart's convictions.  They change to blend in with their environment.  A return to God is the only way to alleviate such a turn-away.
Where One's Affection Should Reside
The apostle Paul wrote: Set your affections on things above, not on things on the earth (Colossians 3:1).  Mortify therefore, your members which are upon the earth; fornication (or sex outside biblical marriage), uncleanness, inordinate affection (or passion), evil desire, and covetousness, which is idolatry (Colossians 3:5).
Paul desired that those in Christ put to death the old life.  He said: In which you also walked some time, when you lived in them.  But now put off all these; anger, wrath, malice, blasphemy, filthy communication out of your mouth.  Lie not one to another, seeing that you have put off the old man with his deeds.  And have put on the new man, which is renewed in knowledge after the image of him that created him (Colossians 3:7-10).
A Bible commentary noted: The old man is all that a person was prior to salvation: His worldly thinking and sinful acts.  The new man is the person one becomes after conversion, he possesses a new nature, values, aspirations, and a new life-style.  Not only is the "new man" to put sin to death, he is also to put away man-made barriers that divide people and that nourish the vices of the old life.
Change in Direction
A return to God indicates a coming to or returning home; a change in direction, the act of going back to a prior time, a previous state of mind, an earlier time in one's life, back to the previous point of departure, and being restored.
Some quotes concerning a return to God: Does God seem far away? Guess who moved (Author Unknown)!  God intervenes in the affairs of men by invitation (Author Unknown).  God often visits us but most of the time we re not at home (Joseph Roux).  Deep within each human is a God-vacuum, and inner emptiness that can be filled only by a personal relationship with God through Jesus Christ (Frank B. Minirth).
What More Could I Have Done
Words given to me many years ago which denotes God's concern for those who have drawn away from Him:  My heart cries out, What more could I have done that I have not done already?  I have tenderly loved you as you began to grow in me. I wept when you wept, laughed when you laughed, been joyous when you were joyous.  I have seen you glow when my blessings would shower upon you.  I have seen you wonder in puzzlement as I gently molded you into a vessel pleasing unto me.  This puzzlement would turn to joy, as you understood.
My heart would grow warm inside as I looked upon you.  Tears of joy would water the ferns below as I seen you begin to lean more and more upon me.  You would cry daily unto me as you walked in the pathway I had created for you.  In the cool of the evening you would invite me into your heart to speak your desires.  I would look forward to those times and rejoice in knowing you were looking to me.
My heart has become troubled, Where is my child today? The time of our talk has come and gone.  Where is my child today?  Suddenly I realized you were too busy.  My blessings are given as encouragement but the daily talks now are few.  There is less and less room in your heart for me.  It has now become easier to put other things before me.  Now instead of tears of joy gently watering the ferns below; floods of waters come upon the earth because of my concern.
My heart continues to be troubled; I wonder, When will you return unto me?  I am alone now.  I hear no more from the child I love so dear.  The talks have now ceased.  There is a void where you use to be.  Bolts of lightning now come upon the earth; earthquakes shakes the earth, as great sobs leap from my breast.  A dull ache now replaces the one of joy.  What more could I have done that I have not done already?  Where is my child today?
Be not Troubled or Afraid
Jesus said:  Peace I leave you, my peace I give to you; not as the world gives, give I to you.  Let not your heart be troubled, neither let it be afraid (John 14:27). 
An example of such peace is revealed in telling of a great storm of wind, with waves beating into the ship which Jesus and His disciples were in.  Jesus was in the stern of the ship asleep.  His disciples cried out to Him, Master, care you not that we perish?
Scripture reveals:  And he arose, and rebuked the wind, and said to the sea, Peace, be still.  And the wind ceased, and there was a great calm (Mark 4:39).  An unknown author wrote:  Sometimes the Lord calms the storm; sometimes He lets the storm rage and calms His child.
This Too will Pass Away
Many times as believers in Christ we may face the unknown; do not know what tomorrow may bring, only who holds tomorrow!  In a poem entitled: "This too will Pass away" by an unknown author, are found these words:
If I can endure for this minute whatever is happening to me, no matter how heavy my heart is or how dark the moment may be.  If I can but keep on believing what I know in my heart to be true, that darkness will fade with the morning and that this will pass away too; then nothing in life can defeat me.
For as long as this knowledge remains I can suffer whatever is happening, for I know God will break all the chains that are binding me tight in the darkness trying to fill me with fear.  For there is no night, without dawning, and I know that my morning is near.
Worthy to Escape
If you do not have such an assurance in your heart; then a return to God, yielding your life to Him, and His Son (the Lord Jesus Christ) may be the ingredient that you are leaving out!
Scripture reveals: Take heed to yourselves, lest at any time your heart be overcharged (or weighed down) with surfeiting (or carousing), and drunkenness, and cares of this life, and so that day come upon you unawares. 
For as a snare shall it come, on all them that dwell on the face of the whole earth.  Watch therefore, and pray always, that you may be accounted worthy to escape all these things that shall come to pass, and to stand before the Son of man (or the Lord Jesus Christ) (Luke 21:34-36).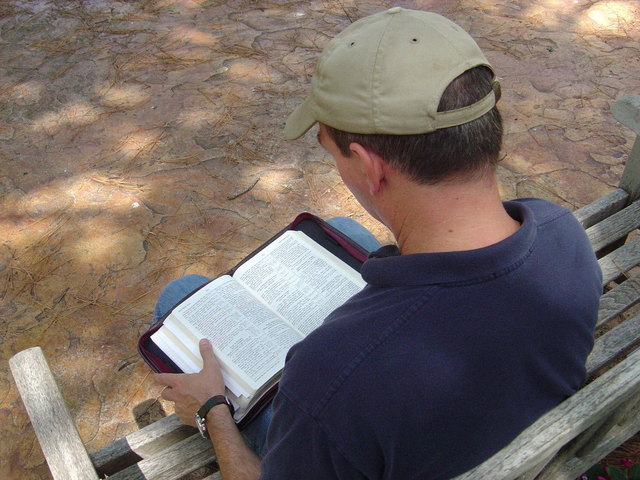 GOT QUESTIONS  A Website where Bible questions are answered.  With over 4,500 answers to frequently asked Bible questions published online, approximately 75% of the questions have answers available instantly.  This Website is an easy way to search out any questions you may have.