RIVER OF LIFE
By Roy Burner - Minister of the Gospel
---
INTRODUCTION
River of life from God was an encouragement to a sinful people.  It takes the hand of God to break the yoke of bondage of sin; to bring repentance.  Then, and only then, can God begin to restore His former blessings and nourish His people in His ways.
A Bible commentary noted:  Since God now has a redeemed people and a divine covenant, the land remained as the only necessity in order to have a holy nation.  The prophet Ezekiel prophesied much about the destruction of Jerusalem and the removal of God's glory and blessing.  He then gave encouragement in that the nation's fortunes would ultimately be reversed, and God would again dwell in their midst, in an even greater and more glorious way!
---
River of Life - Crossing Uncharted Waters
A descriptive narrative of God's handiwork of restoration is given by the prophet Ezekiel, as it was revealed to him, in crossing of the river of life:  And when the man that had the line in his hand went forth eastward, he measured a thousand cubits, and he brought me (or Ezekiel) through the waters; the waters were to the knees (Ezekiel 47:3).
It was a gradual entry into uncharted waters.  One does not normally plunge headlong into waters that are not familiar to them.  First, they explore or venture out cautiously.  The waters in this case were shallow, only covering the soles of the feet, possibly casting aside previous reservations concerning having entered in.
Wise and Foolish Contrasted
One may face a crisis in their life that leaves them puzzled as to the proper course of action to take.  They may attempt to take a path that is crooked in its winding and turning; as that of a river; while it may be straight with seemingly no problem in navigating.
Scripture gives a contrast between the wise and the foolish:  In the way of righteousness is life: and in the pathway thereof is no death (Proverbs 12:28).  There is a way which seems right to a man; but the end thereof are the ways of death (Proverbs 14:12). 
The fear of the Lord is a fountain of life, to depart (or turn away) from the snares of death (Proverbs 14:27).  The way of the wicked is an abomination to the Lord; but he loves him that follows after righteousness (Proverbs 15:9).
Venturing into River of Death
Again he measured a thousand, and brought me (Ezekiel) through the waters; the waters were to the knees.  Again he measured a thousand, and brought me through; the waters were to the loins (or waist) (Ezekiel 47:4).  After taking the first step of the ankle deep water; he was taken to even deeper waters; first to knee level, then to the waist.  
Sin works in the same manner; for it is also consumed in uncalculated steps as one goes deeper and deeper into its clutches.  Scripture reveals:  Every man is tempted when he is drawn away of his own lust (or desire), and enticed.  Then when lust has conceived it brings forth (or gives birth to) sin, and sin, when it is finished (or full-grown) brings forth death (James 1:14-15).
It has been said that sin will do three things in one's life:  It will take one where they never intended to go.  It will keep one longer than they intended to stay.  It will cost one more than they intended to pay.  Sin is costly business that separates one from God.  However, genuine repentance brings forgiveness and continuation in crossing the river of life!
Waters to Swim In
Afterward he measured a thousand; and it was a river that I (Ezekiel) would not pass (or could not cross) over: for the waters were risen, waters to swim in, a river that could not be passed over (Ezekiel 47:5).  Ezekiel could no longer set his foot on the bottom; a previous safety factor, in that he could wade through the river of life, now it required an even greater trust in the one who was measuring the distance.
That same trust, to the believer in Christ, is emphasized in the 23rd Psalm:  Yea, though I walk through the valley of the shadow of death, I will fear no evil; for you are with me: your rod and staff they comfort me (Psalm 23:4).
The Lord is compared to a shepherd and the believer as sheep in this Psalm.  Believers are dependent on their Shepherd for His provision and protection.  This reflects the fact that as one ventures further into the river of life; they have to place their trust in the hands of the one who gave His life (the Lord Jesus Christ) that we may have life and have it more abundantly!
Wheresoever the River Comes
And it shall come to pass, that everything that lives, which moves, wheresoever the rivers shall come, shall live: and there shall be a very great multitude of fish, because these waters shall come thither: for they shall be healed; and everything shall live whether the river comes (Ezekiel 47:9).
A Bible commentary noted: And there shall be a very great multitude of fish, because these waters shall come thither signifies the great number of living Christians, true believers, who shall appear wherever the Gospel is truly, purely, and powerfully preached!  
And everything shall live whither the river comes; is not only shall live as before, but continue to live, shall never die; their graces shall not die, nor shall they themselves die, but shall have eternal life; because of the purpose of God, who had ordained them; and the promise of God, who is faithful; and because of the security of life in Christ, to whom they are united; because of the indwelling of the Spirit of God in them.
Drawing Power of God's Spirit
God's provision for sinners, and saved alike, is of upmost importance!  Without the heavenly Father, the Lord Jesus Christ, and the Spirit of God, one would have never ventured into the river of life!  It takes the drawing power of God's Spirit to enlightened one to the truths of His Word, and the salvation of the soul!
A Bible commentary noted: It is the spring of spiritual life, to lost sinners, who will receive the message of life, and it also revives saints, quickens their graces, faith, hope, and love; cheers their spirits, greatly influencing true religion and godliness.
Others to Be Saved
A glorious promise to those yet to be saved!  Jesus said: And other sheep I have, which are not of this fold: Them also I must bring, and they shall hear my voice; and there shall be one fold, and one shepherd (John 10:16).  
Thank God, this opens the door to all of mankind; no one is excluded, except those who refuse to enter into the river of live provided; through Jesus Christ, as one's Lord and Savior!  Jesus is still extending His invitation to those outside the fold:
I stand at the door and knock (the door of one's heart), if any man hear my voice, and open the door (only you can), I will come into him, and will sup (or dine) with him, and he with me (Revelation 3:20).
I made a confession of faith 42 years ago; and no regrets, for it was the greatest day of my life!  The river of life (through Christ) is available to "whomsoever will."  One may initially enter to the ankles, then the knees, then the waist, but eventually one's faith increases towards swimming in the pleasures of eternal life, in knowing they have been been truly saved, with sweet deliverance, as the river of life leads them to life eternal through Jesus Christ!
Pure River of Water of Life
The river of life is not only mentioned by the prophet Ezekiel, but in the Book of Revelation, through apostle John, in saying:  And he showed me (or John) a pure river of water of life, clear as crystal, proceeding out of the throne of God and the Lamb (or the Lord Jesus Christ).
In the mist (or middle) of the street of it, and on either side of the river, was the tree of life (of whose access was lost in the Garden of Eden), which bare twelve manner of fruits, and yielded her fruit every month, and the leaves of the tree were for the healing of the nations (Revelation 22:1-2).
A Bible commentary noted: And he showed me a pure river of water of life (or river of life) refers to the Gospel of Christ, when faithfully preached, is clear as crystal; and is the means of conveying spiritual life; the holiness and knowledge of that state, being the free gift of God, through Christ.
This river is an everlasting love of God, which is compared to a river for its largeness and abundance.  When its waters increase, it will quicken those who are dead in trespasses and sins, springing into a source of eternal life that will last and flow forever; with its ever running water of everlasting love.
Fresh and New
A Bible commentary noted:  The twelve manner of fruits, which yields her fruit every month; is expressive of the spiritual blessings of grace from Christ, enjoyed by saints in the present state, and of that variety of happiness and pleasures to be in this glorious state, and the continuance of them; always fresh and new, to be enjoyed in great abundance.
There will be no  disease of body or mind in this state.  The leaves will be for the preserving and continuing health of the people of God, as the tree of life in Eden's garden was for the preservation of the health of Adam, had he continued in a state of innocence, and it denotes that everything in Christ will contribute to the comfort, health, and happiness of the saints!
Failure to Take Final Plunge
Some may not be willing to enter into the river of life; or maybe having gone ankle deep, or to the knees, or waist, have failed to make the final plunge (to swim); to cross from death to life.
Scripture reveals the fate of such:  He that believes on him (the Lord Jesus Christ) is not condemned: but he that believes not is condemned already, because he has not believer in the name of the only begotten Son of God (John 3:18).  He that believes on the Son has everlasting life: and he that believes not the Son (the Lord Jesus Christ) shall not see life; but the wrath of God abides (or remains) on him (John 3:36).
Anchored in Love
Do not be afraid to enter into the river of life; Jesus will be with you every step of the way, until you are able to swim across anchored in His love!  A Bible commentary suggested that Jesus was the man that had the line in his hand; to measure out each thousand cubits, as the prophet make his way towards crossing the river of life.
An assurance of Jesus' loving companionship, He said to His disciples (and future believers):  Go you, and teach (or make disciples of) all nations, baptizing them in the name of the Father, and the Son, and the Holy Ghost (or God's Spirit): Teaching them to observe all things whatsoever I have commanded you.  And, lo, I am with you always, even to the end of the world (Matthew 28:19-20).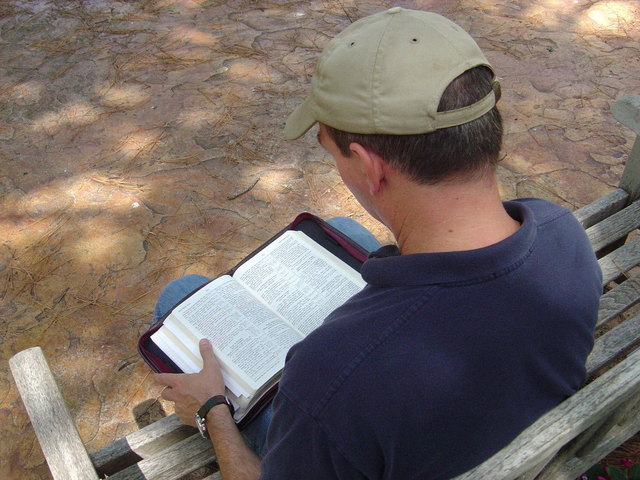 GOT QUESTIONS  A Website where Bible questions are answered.  With over 4,500 answers to frequently asked Bible questions published online, approximately 75% of the questions have answers available instantly.  This Website is an easy way to search out any questions you may have.