TARGET OF ADVERSITY
W R Burner (Minister of the Gospel)
INTRODUCTION
Target of adversity is dominate in many lands; for we live in a time of adversity, with many voices attempting to lead in a provocative way towards upsetting the norm of long-standing policies that have proven effective over the years.
When one attempts to stand for the truth they become as little David facing the giant Goliath who was a threat to all of Israel, until God intervened.  Scripture reveals: Then said David to the Philistine, you come to me with a sword, and with a spear, and with a shield: but I come to you in the name of the Lord of hosts, the God of the armies of Israel, whom you have defied (1 Samuel 17:45).
David was certain that God; who had delivered him out of the mouth of a lion, and the paw of a bear, would deliver him from this adversity who defied the armies of the living God.  Believers who oppose the ungodliness of today have such an assurance as well!
Target of Adversity
Weapons of Warfare
Scripture reveals: The weapons of our (the believer's) warfare are not carnal (of the flesh), but mighty through God to the pulling down of strongholds; casting down imaginations (arguments), and every high thing that exalts itself against the knowledge of God, and bringing into captivity every thought to the obedience of Christ (2 Corinthians 10:4-5).
It was noted that though we live in the flesh (the body) we do not fight according to human standards.  This expresses the manner in which believers conduct themselves in spiritual warfare; casting down (destroying) images (false arguments).
Attack by Hostile
Individuals
Target of adversity is an attack by some hostile person or influence.  The intended goal is to introduce criticism or ridicule; to offset any outside influence that might countermand their intended agenda.  When one becomes a target of adversity they face an aggressive, domineering, combative, and contentious opponent that is easily given to angry debate, provoking dispute, and quarrelsome.
Any who attempt to stand for uprightness, in a hostile environment, will find themselves a target of adversity.  Character assassination is often used as a tool to discredit any opposition.  
Inciting a Mob
Inciting a mob is not a new trend for Scripture reveals: The Jews which believed not (were not persuaded), moved with envy, taking to themselves certain lewd followers of the baser sort (evil men), and gathered a company (mob), and set all the city in an uproar, and assaulted the house of Jason, and sought to bring them (Apostle Paul and others) out to the people (Acts 17:5).
It was noted that the unbelieving Jews sought those who could easily be gathered together; employing them to make a clamor with great disturbance, bringing an uneasiness to the inhabitants.  This same picture, a target of adversity, is identifiable in current activities; of a mob like rule, who respect nothing but their intended agenda.
Anarchy and Misrule
Daniel Webster, an American statesman, declared: If truth is not diffused, error will be.  If the power of the Gospel is not felt throughout the length and breadth of the land, anarchy and misrule, degradation and misery, corruption and darkness will reign without mitigation or end.
We are seeing this happening today; despite the warnings of what would transpire if the ungodly were to get a firm footing in the land.  We are seeing the mentality of the Pre-flood days of Noah, Sodom and Gomorrah, and Babylon which was the hold of every foul spirit.  There is an influx of ungodliness that far surpasses the expectation of those who forewarned against it.
No Appeasement
The Psalmist David wrote:  For (in return for) my love they are adversaries: but I give myself to prayer.  And they have rewarded me evil for good and hatred for my love (Psalm 109:4-5).  There is no appeasement to sin that is rampant in many lands; nor tolerance given to outweigh the evil that flourishes, like a cancer that cannot be abated.
The prophet Amos declared: Thus saith the Lord God; an adversary there shall be even round about the land; and he shall bring down your strength from you (throw down your strongholds), and your palaces shall be spoiled (plundered) (Amos 3:11).  This speaks of tumults and riots, oppression and injustice, robbery; the taking away, demolishing and stripping of everything in sight.
Trend of Disobedience
Target of adversity can be instituted by God to offset man's trend of disobedience that begin in the Garden of Eden.  Scripture reveals: He has turned aside my ways, and pulled (torn) me in pieces: he has made me desolate. He has bent his bow, and set me as a mark (target) for the arrow (Lamentations 3:11-12).
It was noted that God dealt with His people as enemies, the object of His wrath and indignation, and it must hit them, for there is no escaping His vengeance. 
Judgment or Protective
Shield
Scripture reveals: The adversaries of the Lord shall be broken to pieces; out of heaven shall he thunder upon them: the Lord shall judge the ends of the earth; and he shall give strength to his king, and exalt the horn (strength) of his anointed (1 Samuel 2:10).
This is a two-fold message: First, the promise of judgment on nations who reject Him; and secondly, His protective shield over His anointed.  
Prince of Peace
Target of adversity may flourish in the ungodliness of man; but one day it will languish its threat, to receive the Prince of Peace.  Scripture reveals: The people that walked in darkness have seen a great light: they that dwell in the land of the shadow of death, upon them has the light shined (Isaiah 9:2).
For to us a child is born (the Lord Jesus Christ), to us a son is given: and the government shall be upon his shoulder: and his name shall be called Wonderful, Counselor, The mighty God, The everlasting Father, The Prince of Peace (Isaiah 9:6).
It was noted that to those in darkness God promises to send a great light; fulfilled in Jesus' ministry in Galilee.  The prophet sees these events as though they were happening.  He predicts the future with certainty, as though it had already come to pass.  
God Sees It All
One may, at the moment, be a target of adversity but there is hope in the God of one's salvation.  One may see the ungodliness that seems to cover the earth but it will not forever be.  Scripture reveals: Behold, darkness shall cover the earth, and gross darkness the people: but the Lord shall arise upon you, and his glory shall be seen upon you (Isaiah 60:2).
One may think nothing worse can happen but it shall; as God's wrath falls upon nations who relish the evilness of man and fail to repent.  God sees it all, nothing is missed, and His concern and response are real.  In His time all will be responded to in a just and righteous manner.
A Period of Rest
King Solomon seen a period of rest in declaring: But now the Lord my God has given me rest (peace) on every side, so that there is neither adversary nor evil occurrence (misfortune) (1 Kings 5:4).
It was noted that a rest is given from foreign enemies, no internal enemy in the kingdom, nor external ones, all ill-designing persons being cut off.  Quite a contrast to what we are presently witnessing, with the target of adversity ongoing; especially for those living for Christ, being an earthly representative for Him.
Encouragement
Hour of Need
A poem, by an unknown author; "This Will Pass Away Too," notes encouragement in an hour of need:  If I can endure for this minute whatever is happening to me, no matter how heavy my heart is or how dark the moment may be.  If I can remain calm and quiet with my whole world crashing about me secure in the knowledge that God loves me.  If I can but keep on believing what I know in my heart to be true that darkness will fade with the morning and that this will pass away too; then nothing is life can defeat me.
For as long as this knowledge remains I can suffer whatever is happening, for I know God will break all the chains that are binding me tight in the darkness trying to fill me with fear.  For there is no night, without dawning and I know that my morning is near.
God is Able to
Deliver
Shadrach, Meshach, and Abednego become a target of adversity for refusing to bow down to the golden image set up.  Their response:  If it be so, our God whom we serve is able to deliver us from the burning fiery furnace, and he will deliver us out of your hand, O king, but if not, be it known to you, that we will not serve your gods, nor worship the golden image you have set up (Daniel 3:17-18).  They faced adversity; even death, but took a stand in opposition to the evils of their day.  They were delivered miraculously by God!
Another time, the result was quite different; though being a target of adversity was still a factor, but with the end result being death at the hand of accusers.  Such was the martyrdom of Stephen for proclaiming the Word of God; but his death was not before seeing the glory of God. 
Scripture reveals: But he (Stephen) being full of the Holy Ghost (that of God's Spirit), looking up steadfastly into heaven, saw the glory of God, and Jesus standing on the right hand of God (Acts 7:55).  God richly rewards His servants for their godly stand; even in the midst of adversity.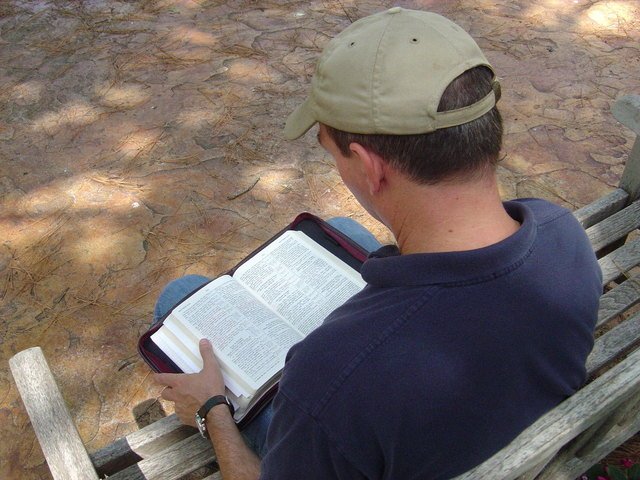 GOT QUESTIONS  A Website where Bible questions are answered.  With over 4,500 answers to frequently asked Bible questions published online, approximately 75% of the questions have answers available instantly.  This Website is an easy way to search out any questions you may have.

YOU MAY BE INTERESTED IN
Walk with God is a necessary ingredient in the life of a believer with such a walk not simply a "fishing expedition" but a dedicated walk in the Lord.