TIME FOR CLOSURE
By Roy Burner (Minister of the Gospel)

---
INTRODUCTION
Time for closure invokes a burning desire to see something put in the past; out of sight and mind, a new day or horizon in the offering, that does not bear the same painful memories as before.  Oftentimes such closure is like chasing a dream that never seems to be in one's grasp.
Once I returned to places of past memories of my childhood; which were joyful memories in my life.  I sought to obtain some satisfaction in revisiting those places.  The home which I found so much happiness no longer existed but was just an open field for farming.  The surroundings of a lake which I had spend so much leisure time now completely changed; no longer recognizable. Though I was seeking a time of closure it was not obtainable.
The apostle Paul gave some advice that falls in line with this subject:  Brethren, I count not myself to have apprehended: But this one thing I do, forgetting those things which are behind, and reaching forth for those things which are before.  I press toward the mark for the prize of the high calling of God in Christ Jesus (Philippians 3:13-14).
A Bible commentary noted:  Those things which are behind refers to Paul's former religious credentials, now counted as "lost" and his past achievements and successes.  He refused to let past guilt weigh him down or to rest on the past.  The prize now sought after was the personal satisfaction of knowing Christ; of experiencing His power, becoming more like Him, and the resurrected life promised.

---
Time for Closure
(Earthly Existence)
As time for closure of Paul's life grew near, he said: I am now ready to be offered, and the time of my departure (or death) is at hand.  I have fought a good fight, I have finished my course (or race), I have kept the faith: Henceforth there is laid up for me a crown of righteousness, which the Lord, the righteous judge, shall give me at that day: and not to me only, but to all them also that love his appearing (2 Timothy 4:6-8).
Despite his impending execution, Paul was convinced that the Lord would preserve him unto His heavenly kingdom, in saying:  The Lord shall deliver me from every evil work, and will preserve me to his heavenly kingdom: to whom be glory forever and ever (2 Timothy 4:18).

Possibility of Closure
A time for closure could have been a factor in the lives of Shadrach, Meshach, and Abednego, for failure to fall down and worship the golden image set up by the king of Babylon.  For a decree had gone out that if any failed to worship the golden image, when a certain sound of music was played; in that same hour they would be cast into the midst of a burning fiery furnace.
They refused saying:  If it be so, our God whom we serve is able to deliver us from the burning fiery furnace, and he will deliver us out of your hand, O king.  But if not, be it known to you, that we will not serve your gods, nor worship the golden image which you have set up (Daniel 3:17-18).
A Bible commentary noted: If not does not indicate a lapse of faith on the part of the three men.  Rather, they recognized that sometimes it was the will of God for men to die "in the line of duty" as they served Him.  However, the time for closure, for these three men, would not be on that day.
A startled King, and others gathered together, in witnessed that it was God's will to deliver the three!  Scripture reveals: And the princes, governors, and captains, and the kings' counselors, being gathered together, saw these men, upon whose bodies the fire had no power, nor was a hair of their head singed, neither were their coats changed (or garments affected), nor the smell of fire had passed on them (Daniel 3:27).

Stand for Christ
A time for closure has came to many saints of God; in being martyred in their stand for Christ.  Many have given their lives for the Gospel's sake, with others being delivered.  Scripture speaks of those, who through faith subdued kingdoms, wrought righteousness, obtained promises, stopped the mouths of lions, quenched the violence of fire, escaped the edge of the sword, out of weakness were made strong, waxed (or grew) valiant in fight (or battle), turned to flight the armies of the aliens (Hebrews 11:33-34).
And others others had trial of cruel mocking and scourging, moreover of bonds (or chains) and imprisonment: they were stoned, they were sawn asunder, were tempted, were slain with the sword; they wandered about in sheepskins and goatskins; being destitute, afflicted, tormented (Hebrews 11:36-37).

First Christian Martyr
Scripture speaks of the first Christian Martyr named Stephen.  In speaking to the council of the elders, and scribes, he said:  You stiffnecked (or stubborn) and uncircumcised (or impenitent) in heart and ears, you do always resist the Holy Ghost (or that of God's Spirit): as your fathers did, so do you (Acts 7:51).
It was time for closure of this man of God but not before getting a glimpse of heaven itself.  Scripture reveals: But he, being full of the Holy Ghost, looked up steadfastly into heaven, and saw the glory of God, and Jesus standing on the right hand of God (Acts 7:55).  Stephen was stoned to death; crying out, Lord, lay not this sin to their charge.  His concern towards the saving of the soul was upon his lips even in his time for closure to this world.
Closure through Forgiveness
Many refuse a time for closure when it comes to a forgiving nature.  Jesus said:  If you forgive men, their trespasses, your heavenly Father will also forgive you: But if you forgive not men their trespasses, neither will your Father forgive your trespasses (Matthew 6:14-15). 
Time for closure of hatred, ill-conceived thoughts towards others, need to be repented of; so forgiveness may be extended.  Oftentimes, the only way this is possible; is to seek heavenly help through prayer!

Separated unto God
Scripture reveals:  Many shall be purified, and made white, and tried (or refined); but the wicked shall do wickedly: and none of the wicked shall understand; but the wise shall understand (Daniel 12:10).  Wherein they think it strange that you run not with them to the same excess of riot, speaking evil of you (1 Peter 4:4).
When one becomes separated unto God; it leads one to a changed life, a new direction, a godly deportment; with one's former acquaintances not understanding.  They continue in a course of sin, opposing and openly condemning those who live godly in Christ, while promoting their ungodly agenda.  They do not see a need for closure of their ungodly deeds; until they come into the glorious light of the gospel of Christ. 

An Invitation Extended
Time for closure comes to those who have accepted Jesus' invitation:  Behold, I stand at the door (that of one's heart), and knock; if any man hear my voice, and open the door (only you can), I will come in to him, and will sup (or dine) with him, and he with me (Revelation 3:20).
Closure to the world of sin; comes with a peace that is beyond understanding, that only God can give, through the acceptance of His Son (the Lord Jesus Christ).  Jesus said:  Peace I leave with you, my peace I give to you: not as the world gives, give I to you.  Let not your heart be troubled, neither let it be afraid (John 14:27).

A New Creation
Time for closure involves putting on the new man in Christ.  Scripture reveals:  If any man be in Christ, he is a new creature (or creation); old things are passed away (a time for closure of such); behold, all things are become new (2 Corinthians 5:17).
A Bible commentary noted: A person perceives Christ in a new way.  Old things are passed away; is a decisive break with the old life, at the moment of salvation.  All things become new, stresses the abiding results of a union with Christ.
It is unfortunate that many professing the name of Christ; especially in many Western nations, have yet to make the complete changeover to a new life in Christ; still desiring to straddle the fence between the old life and new, still desiring the things of this world; giving no consideration for closure of such.

Closure of Evilness
The Old Testament gives a prime example of a time for closure, in telling of King Hezekiah, saying:  And he did that which was right in the sight of the Lord, according to all that David his father had done.  He in the first year of his reign, in the first month, opened the doors of the house of the Lord, and repaired them (2 Chronicles 29:2-3).
A Bible commentary noted: Hezekiah's deep spiritual concern is seen in the record of revival that follows his reforms which included: Cleansing of the temple of all the pagan practices, the restoration of the proper articles of worship, rededicating the temple, the re-institution of the Passover, removing idolatry from the land, and appointing priests and Levites.
King Hezekiah begin instantly towards a time for closure of the pagan influences of the past.  There is a dire need today for once godly nations to immediately institute a time for closure of the ungodliness that has been allowed to reign in the land.  However, many have become so blinded towards acceptance that they are not willing to bring restoration, as that of king Hezekiah.

Restoration as of Former Times 
In the days of the prophet Amos, a future restoration is noted, in the words of the Lord:  In that day will I raise up the tabernacle of David that is fallen, and close up (or repair) the breaches (or damages) thereof: and I will raise up his ruins, and I will build it as in the days of old (Amos 9:11).
A Bible commentary noted:  Though fallen to decay, ordinances changed, or no longer attended to, yet it would be raised again, with even greater accomplishments, in the latter days.  This was a spiritual insight into the future, revealing that restoration would be in great numbers, holiness would be restored, with spiritually and brotherly love restored.
Holy and Without Blemish
Scripture reveals: Christ loved the church, and gave himself for it; that he might sanctify (or set it apart) and cleanse it with the washing of water by the word.  That he might present it to himself a glorious church, not having spot, or wrinkle, or any such thing: but that it should be holy and without blemish (Ephesians 5:25-27).
The present day church, in many Western nations, is allowing the ungodliness of man to filter in rather than obedience to the Unadulterated Word of God.  A time for closure, from the ways of world, is drastically needed for the church Christ is coming back for.

Closure is the approaching of a particular destination; a coming together towards such, a narrowing of the gap that now seems so widely dividing, releasing any tension of uncertainty, being settled and resolved.  Time for closure is a message needed in the hour in which we live; as uncertainty of the future has driven some into a panic mode, rather than trusting God who is faithful to His Word and promises.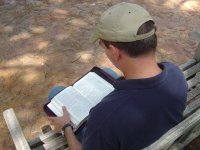 GOT QUESTIONS  A Website where Bible questions are answered.  With over 4,500 answers to frequently asked Bible questions published online, approximately 75% of the questions have answers available instantly.  This Website is an easy way to search out any questions you may have.