WELLS WITHOUT WATER
By Roy Burner (Minister of the Gospel)
---
INTRODUCTION
Wells without water are obviously of no value; but its outward structure, at first glance, may give hope to the one who seeks to quench their thirst; especially in a condition of drought.  However, that hope is dashed when one finds the well dry, no longer able to give its life-sustaining liquid.
A Bible dictionary description of a well refers to it as a pit or hole dug in the earth down to the water-table, a level at which the ground is permanently saturated with water.  Water is necessary to sustain life on earth.  The human body contains about two thirds its weight in water.  Thomas Fuller stated: We never know the worth of water till the well is dry.
---
Wells Without Water
Not God's Intent
Scripture reveals water as a gift from God:  Praise him, you heavens of heavens, and you waters that be above the heavens.  Let them praise the name of the Lord: for he commanded, and they were created (Psalm 148:4-5).  
The psalmist first calls on the heavenly beings and the heavenly bodies to praise the Lord because of His creative power.  We live in time that many attempt to dwarf any praise towards the very one who sustains life.  When a need arises; such as famine, drought, or pestilence, one's faith should be exercised towards the one who can stem the tide of such occurrences.  
Life Giving Substance
Jesus said:  Whosoever drinks of the water that I shall give him shall never thirst; but the water that I shall give him shall be in him a well of water springing up into everlasting life (John 4:14).  I am Alpha and Omega, the beginning and the end.  I will give to him that is athirst (who thirsts) of the fountain of water of life freely (Revelation 21:6).
A Bible commentary noted: The eternal purpose of God is to gather a holy, devoted people.  The water of life represents eternal sustenance and provision available freely by faith.  But sinners, who have shown their rebellion against God by their lifestyle of sin, will have already been cast in the lake of fire (a literal burning Hell).
The latter part refers to wells without water; who have not the eternal life-giving substance due to rejection of Christ, as Lord and Savior.  Scripture reveals:  For God so loved the world, that he gave his only begotten Son (the Lord Jesus Christ), that whosoever believes in him should not perish, but have everlasting life (John 3:16).  He that believes on the Son has everlasting life: and he that believes not the Son shall not see life; but the wrath of God abides (remains) on him (John 3:36).
Flames of Wrath
Jonathan Edwards sermon, "Sinners in the Hands of An Angry God," contained these words:  Consider the fearful danger that you are in: You hang by a slender thread, with the flames of divine wrath flashing about it, and ready every moment to singe it, and burn it asunder.
You have no interest in any mediator, and nothing to hold on to save yourself, nothing to keep away the flames of wrath, nothing that you can do to induce God to spare you one moment.  Those words still ring loud and clear today, to endangered souls who are about to descend into eternity without the benefit of a Savior (wells without water category); unless repentance comes into focus prior to Judgment Day! 
Contrast of the Wise
and Foolish
Scripture reveals the contrast of the wise and foolish:  The mouth of a righteous man is a well of life; but violence covers the mouth of the wicked (Proverbs 10:11).  Understanding is a well-spring of life to him that has it: but the instruction of fools is folly (wells without water category) (Proverbs 16:22).
He (the righteous) shall be like a tree planted by the rivers of water, that bring forth his fruit in his season; his leaf also shall not wither: and whatsoever he does shall prosper.  The ungodly are not so: but are like the chaff which the wind drives away (Psalm 1:3-4).
A Bible commentary noted: The righteous man avoids evil influences, deeds, and attitudes; he delights in God's Word; therefore God causes him to prosper.  On the other hand the ungodly is worth no more than chaff, whose destiny is judgment.
Eyes Full of Adultery
Scripture speaks of those having eyes full of adultery, that cannot cease from sin; beguiling (enticing) unstable souls: a heart they have exercised (trained) with covetous practices; cursed children (2 Peter 2:14).  These are wells without water, clouds that are carried with a tempest: in whom the mist (gloom) of darkness is reserved forever (2 Peter 2:17).
A Bible commentary noted: Wicked men, are like the troubled sea, that cannot rest, but are continually casting up the mire and dirt of sin out of their polluted heart; who live and walk in sin, and are always committing to it, their conversation being nothing else but one continued series of sinning; they are slaves to lusts, and carried away with the force and power of such.
This is descriptive of wells without water; who have no desire to follow any other path that would take them out of such a category.  They relish the sinfulness of mankind; even attempting to instill its grip on others, making such to appear appetizing and desirable.  
Lot of the Wicked
A Bible commentary noted: Wells without water look large and deep, are as those that promise much, but have nothing in them.  They boast of their knowledge; promise great advantages to those who follow them; but are like deceitful brooks, or dry wells; having nothing but the filth and slime of error and wickedness.
They are carried with their own lusts and passions by which they are governed, and are led, and carried away with the force of them; of Satan's allurements, and ready to embrace every ungodly way.  This explains the lot of the wicked; who without repentance are doomed to the eternal fate of the wicked on Judgment Day.  Scripture reveals: Whosoever was not found written in the book of life was cast into the lake of fire (a literal burning Hell) (Revelation 20:15).
Wallowing in the Mire
Wells without water are dry because they no longer are tuned into the source that once made them full!  Scripture reveals that this can happen in regards to the spiritually of some, who were once full of God's provisions and nourishment, but had fallen away:
If after they have escaped the pollution of the world through the knowledge of the Lord and Savior Jesus Christ, they are again entangled therein, and overcome, the latter end is worse with them than the beginning.  For it had been better for them, not to have known the way of righteousness, than after they have known it, to turn from the holy commandment delivered to them. 
But it happened to them according to the true proverb, the dog is turned to his own vomit again; and the sow that was washed to her wallowing in the mire (2 Peter 2:20-22).  The illustration of the dog and the sow vividly portrays one's fate (wells without water category); unless as the prodigal son, one repents and are returned to their former status.
The Prodigal Son
Riotous Living
The parable of the lost (prodigal) son was given by Jesus as an illustration that all is not lost; if one does not remain in such a condition, as wells without water, or having a drought of the soul.  
The story reveals that a certain man had two sons: and the younger said to his Father, give me the portion of goods that falls to me.  And not many days after his journey into a far country, he wasted his substance with riotous living.  Scripture reveals: And when he had spent all, there rose a mighty famine in that land, and he began to be in want (Luke 15:14).
Those who find themselves in such a condition are wells without water; no longer having the life-saving ingredient necessary for salvation of the soul; need as the prodigal son, to come to the realization where their real source of help lies!
A Repentant Heart
Scripture reveals: And when he came to himself (a sign of repentance); he said, How many hired servants of my father's house have bread enough and to spare, and I perish with hunger!  I will arise and go to my father, and will say to him, Father, I have sinned against heaven, and before you: make me as one of your hired servants (Luke 15:17-19).  He knew his offense and was willing to abide by the implications of it; a mark of genuine repentance.
And he rose, and came to his father.  But when he was yet a great way off, his father saw him, and had compassion, and run, and fell on his neck, and kissed him.  And the son said to him, Father, I have sinned against heaven, and in your sight, and am no more worthy to be called your son (Luke 15:20-21).  
Forgiveness Extended
But the father said to his servants, bring forth the best robe, and put it on him; and put a ring on his hand, and shoes (sandals) on his feet: And bring forth the fatted calf, and kill it; and let us eat, and be merry: For this my son, was dead, and is alive again; he was lost and is found. And they begin to be merry (Luke 15:22-23).
At that moment; a glorious attribute to a Heavenly Father's willingness to forgive comes into foreplay.  Wells without water no longer bear such a title by those who come to repentance and receive forgiveness. Scripture reveals:  If we confess our sins, he is faithful and just to forgive us our sins, and to cleanse us from all unrighteousness (1 John 1:9).
Replenishing of the Well
At the son's moment of repentance; having a willingness to go back to his Father to confess his sin, and receive what was due him, it was then that a trickle of water begin to flow into the well of life once again; then, as he grew nearer to his Father with a firm resolve of repentance the flow of water continued to increase!  When confession was made, more water flowed, and with the Father's compassion and restoration came the fullness into the well of salvation!
Scripture reveals: The Lord is not slack concerning his promise, as some men count slackness: but is long-suffering to us-ward, not willing that any should perish, but that all should come to repentance (2 Peter 3:9).  This clearly expressed salvation of all who will trust in God, and the Lord Jesus Christ, for salvation; as well as restoration towards any who have walked away and returned, as that of the Prodigal Son! 
Let one not find themselves in the category of wells without water; but filled to the brim with God's love, righteousness, and salvation of the soul through Jesus Christ as one's Lord and Savior!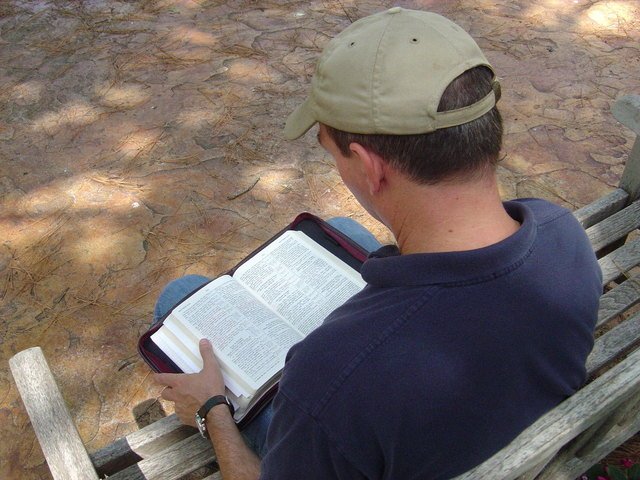 GOT QUESTIONS  A Website where Bible questions are answered.  With over 4,500 answers to frequently asked Bible questions published online, approximately 75% of the questions have answers available instantly.  This Website is an easy way to search out any questions you may have.