PHOTO GALLERY
SELECTED PICTURES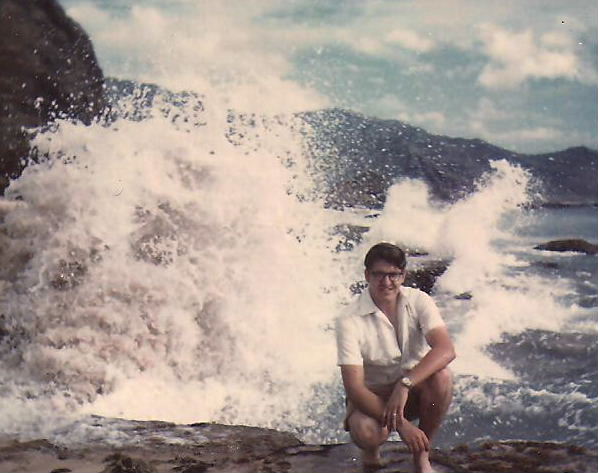 INTRODUCTION
Photo gallery of selected pictures include family, scenery, and nature.  I am an amateur photographer but feel that I have a certain flair in that area and enjoy doing so.  I had, earlier in life, developed some of my own pictures (black and white); one of which I submitted in a contest and was recognized for the submittal.  I enjoyed seeing a blank photo page come to life after placing it in the proper solution.

---
PHOTO GALLERY SELECTED PICTURES TAKEN OVER THE YEARS 
Photo gallery of selected pictures.  I have always enjoyed taking pictures/home movies but the subjects in my pictures/films did not always welcome my enthusiasm!  I have taken many 8MM movies while overseas during my Navy career; and later in civilian life the more advanced VCR movies  which are now obsolete as well - Guess I'm telling my age! 
---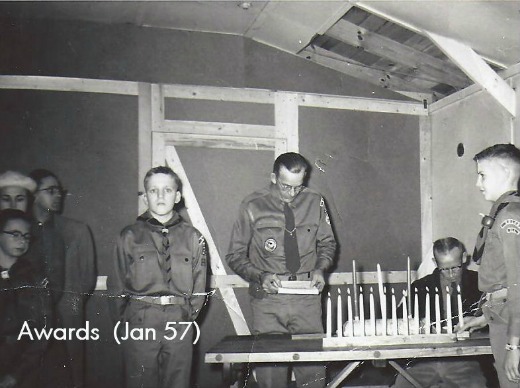 I enjoyed my time in the Boy Scouts of America and obtained the rank of Life Scout; would have made Eagle Scout had the troop stayed open long enough.  I was also awarded the "Order of the Arrow" with quite a initiation that was quite memorable!  

---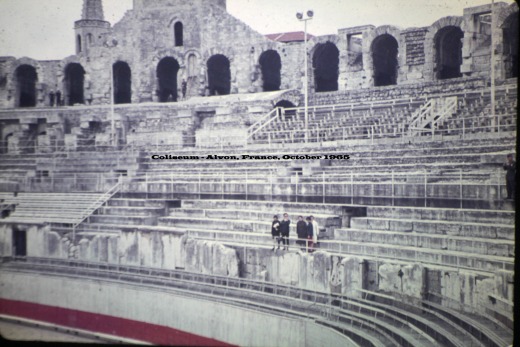 My sister sent me some 35MM slide pictures taken when I was in the U. S. Navy.  I took this one of the Coliseum in Alvon, France in October 1965.  I was serving onboard the USS Telfair (APA-210) at the time.
---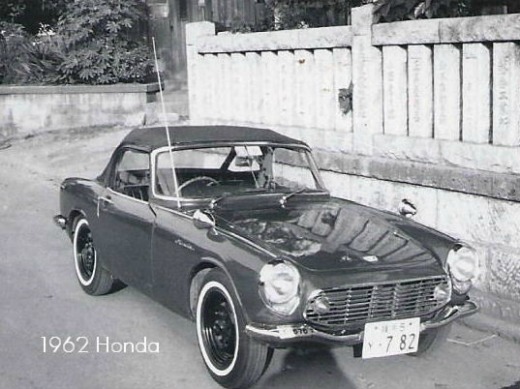 Car I purchased while stationed in Yokohama, Japan from a Naval Officer.  Guess I was making up for a similar style sports car my foster dad was going to help me buy then backed out.  If my memory serves me right it cost me $500. 

---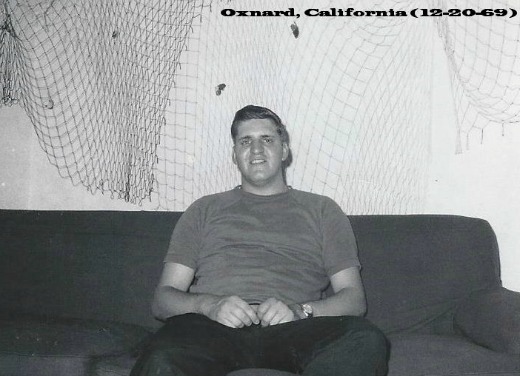 This photo was taken in my apartment in Oxnard, California when I was attached to Naval Mobile Construction Battalion TEN in Port Hueneme.  It was there that I met my wife to be and begin dating.
---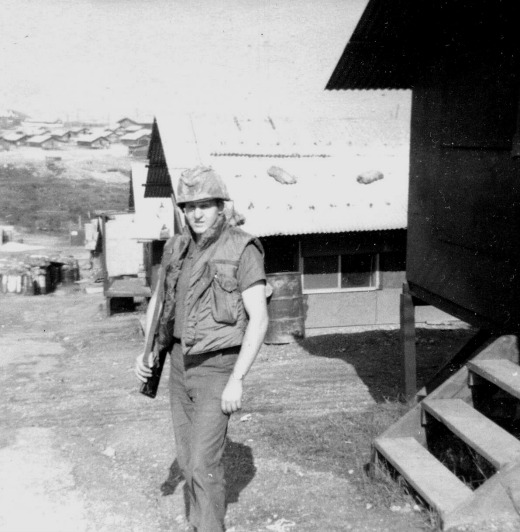 Vietnam caught up with me while attached to the Seabees.  More information on this time is on my Life in the Military Webpage.  It was quite an experience with medals/ribbons/commendations to go along with it.  Many thanks to all the Vietnam Vets; especially those who gave the ultimate sacrifice for their country!

---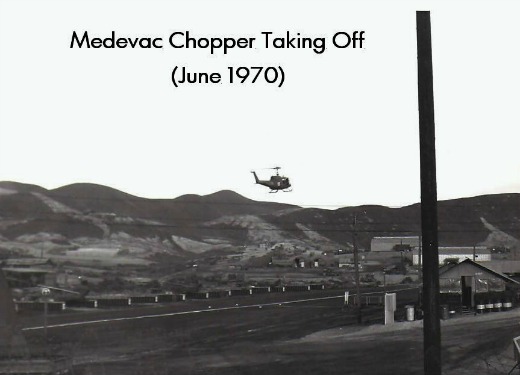 We had a Medevac Chopper Pad real close to NMCB TEN's base in Vietnam so I caught this chopper heading out for a rescue mission.  We also had another chopper pad near where I worked; with various types of choppers coming and going.  I had 8MM movies (now converted to DVD's) of many choppers in various modes of operation; including the Cobra Gun Ship in action.

---
View of this departure of the troops from the 101st Airborne was real close to where I was working so it was easy to click this picture.  The bomb shelter was also close at hand and I will never forget the night I was working late and had to occupy it.

---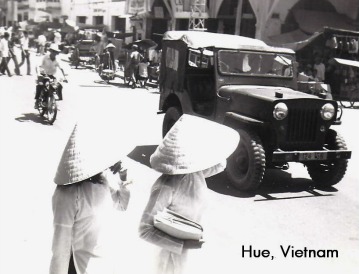 A picture of Hue, Vietnam which I was stationed near.  We seen many Vietnamese ladies working on the Seabee base with the style of dress shown here.  We made a sight-seeing tour of Hue; including the palace which I shall never forget.  A little guy named Joe gave us the grand tour.

---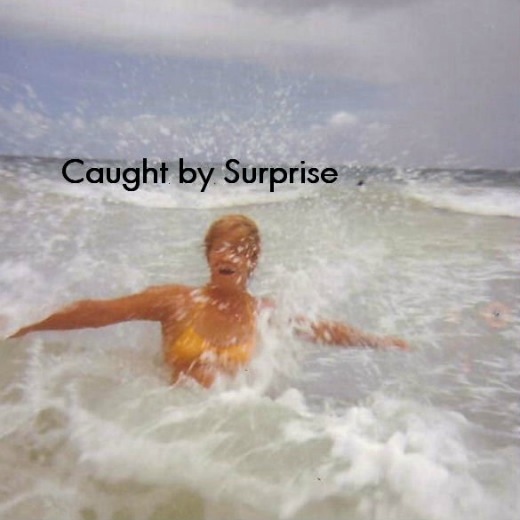 A wave caught my wife by surprise while swimming when I was stationed in Pearl Harbor, Hawaii.  I enjoyed my three year tour in Hawaii and was married there in 1972.  Sue and I had many happy memories of Hawaii.  For our honeymoon Sue won a three-day trip to a neighboring island with all expenses paid.

---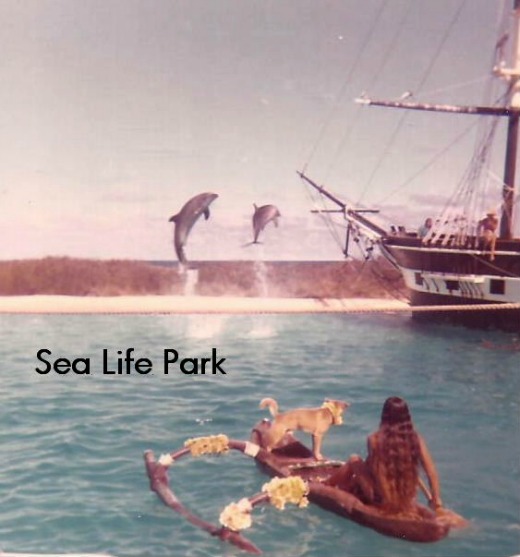 Anyone visiting Hawaii more than likely ended up at Sea Life Park.  I snapped this picture just right when the whales took to flight along with getting this young lady and her dog in the picture.

---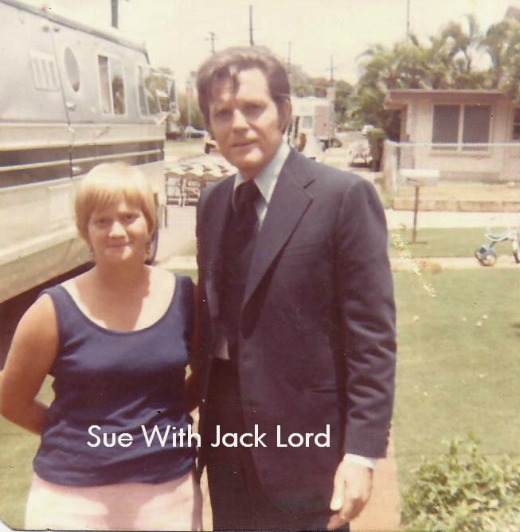 My wife "Sue" did not stop with the photo outside the Hawaii Five-O studios (1972) but insisted on having a picture of herself and all the Five-O top actors; including Jack Lord!  We waited outside His travel trailer at one of the Five-O shooting scenes until he came out.  After much time and effort the mission was accomplished and her persistence paid off with being photographed with all Five-O actors!
---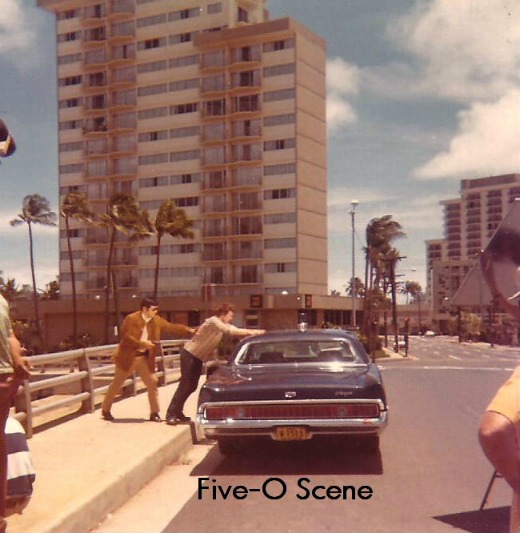 This is one of the Five-O scenes that we were able to get a picture of.  We followed a truck from the Five-O studio to where they were shooting for the day.  Where there is a will there is a way!
---
USS Ranger (CVA-61) in port at North Island with excited families to greet her crew!  I enjoyed my tour of duty aboard the Ranger.  More information can be found on my Webpage "Life in the Military."

---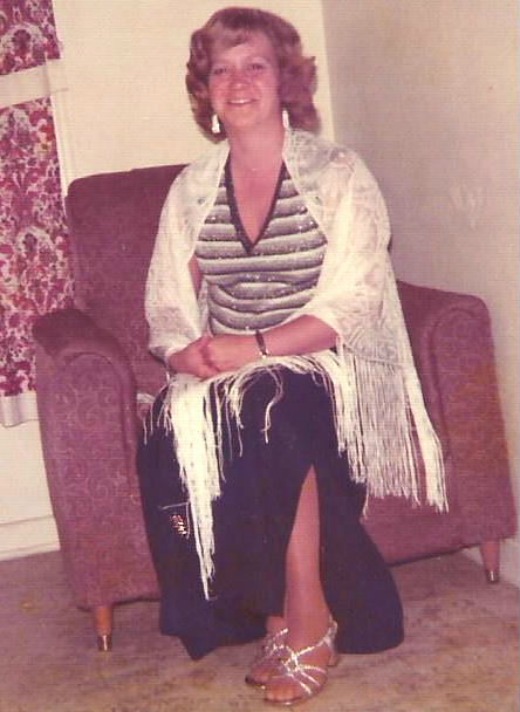 The love of my life all dressed up for me!  Sue and I had 27 blessed years together as husband and wife until the Lord took her home in 1999.  See a couple of poems the Lord gave me after her death which I published in our local paper as a tribute to her!

---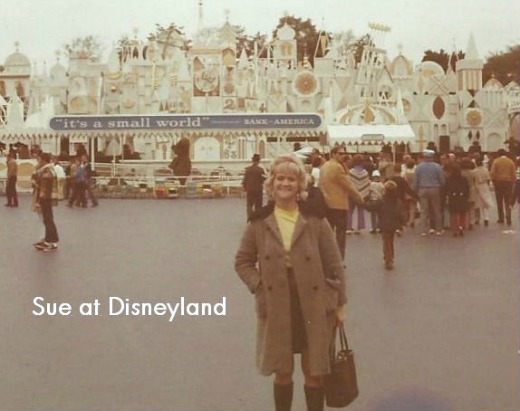 We went to Disneyland several times while stationed in California.  We had a great time in seeing all the attractions offered.  We also went to the San Diego zoo which was full of wildlife displayed in their personal habitats.

---
Happy Thanksgiving Day in California!  I may have carried the turkey out for consumption but I was not the one who prepared it!  Sue was a wonderful cook and I was a very fortunate husband for she provided for in sickness and in health.

---
I would have liked to got a closer shot of the crane but was afraid I would scare him off and have no picture at all.  I like these "chance photos" that comes one's way from time to time.  It adds to the excitement of picture taking when out in God's creation!
---
Dogs & Suds was a special hang out while in High School!  In 2001 I visited home and went to the Dogs & Suds which was still in operation.  One of the persons working there still remembered those days at the Dogs & Suds!  Back then I was Mr. Cool in my 1953 car; spinner hub caps, dice hanging on my rear view mirror, and many other trimmings of that period. 

---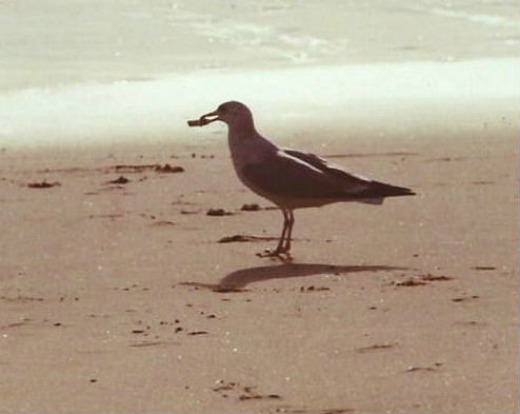 Caught this Sea gull  just at the right time as it was ready to fly away with its treasure!  One of the beauties of the ocean front is seeing these characters being a part of the scenery.

---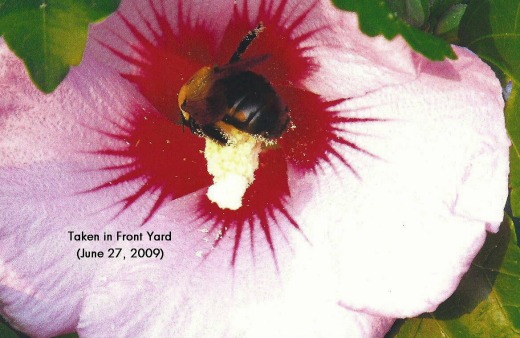 I was able to get a close up of this Bee who dearly loved this flower, for obvious reasons, that blooms on a small tree in the front yard.

---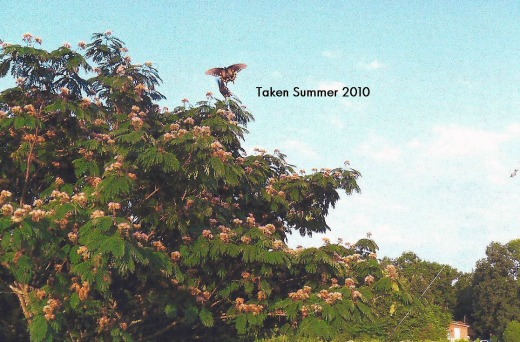 I was fortunate in clicking this picture just at the right moment.  I caught the Monarch butterfly just as it was ascending to other horizons.  This tree is my backyard is very colorful; as well as the butterfly which has orange-brown wings and black veins and borders.
---
I captured a picture of this fellow which was easy to do because there were so many of them around; and at times a nuisance!  They liked to bombard you as you were mowing the lawn.  I guess the sound attracted them.  This species will not be around again until 2024!
---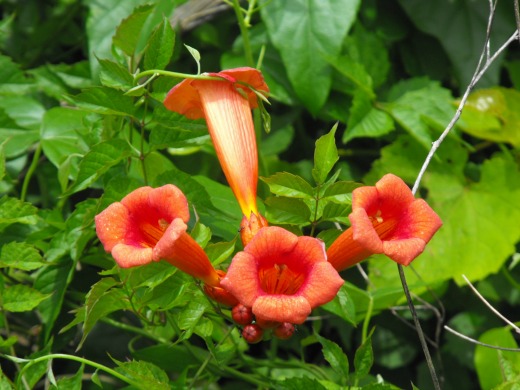 In my backyard I have a portion of it that I just let grow up as it desires.  One day; with camera in hand, I noticed this brightly colored wild flower and took a picture of it.  I just now noticed but it looks like it has berries on it beneath the flower itself.

---
Obviously, a very unusual picture!  It was  taken in the wee hours of the morning.  I have no justifiable reason to account for this scene except it was a "One in a Lifetime" type shot that could not be repeated.
---
CHECK OUT "

GLIMPSE OF ONE LIFE

" WEBPAGE FOR ADDITIONAL PHOTOS
---
---
YOU MAY BE INTERESTED IN
God's Directions for Life website is designed to help one identify with the Word of God, as revealed through His Spirit, concerning the economic, political, and religious times in which we live.

Obstacles in life need to be removed; surmounted or circumvented. Such brings opposition, hinders progress, or an impediment towards a desired goal.